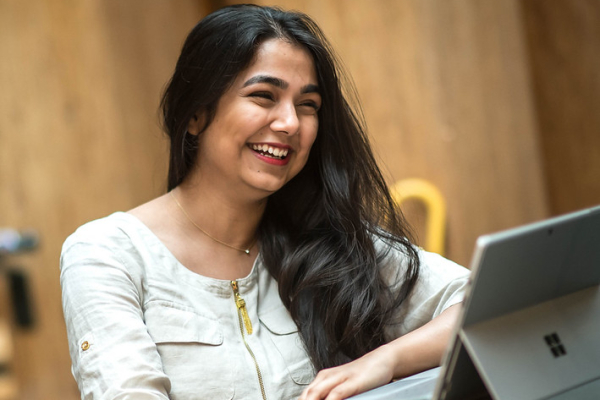 Virtual Tri-Mentoring Kicks off With Real-Time Success
COVID-19 has been ruthless in forcing programs and events to be cancelled. But the tri-mentoring program organizers in UBC's Computer Science Department have not been deterred. Not at all.
"We've had 18 or 19 years of incredible success with this program," said Diane Johnson, Career Planning and Placement Coordinator within the department. "We simply had to figure out how to continue."
Diane, along with Special Projects Coordinator Michele Ng, held focus groups to gauge interest in holding the program virtually. The response was unanimous – alumni, students and industry definitely wanted the mentoring program to go ahead online.
The planning began for a pilot kickoff event in July with the same objective as always:  to create meaningful connections in the department, provide support for students and stimulate engagement and learnings. The relative success of this pilot would determine how (and if) the program would go forward.
On the evening of July 9th, 75 people (50 students, 25 UBC CS alumni, 25 industry) joined the Zoom session. The format included breakout rooms, ice-breakers, polls, rounds of 'speed mentoring', tips and tricks about making successful connections, and honouring long-time mentors.

Mentor devotion fosters success
So how did the partnering go?

"Naturally, some ways of networking and engaging are missing in an online forum," explained Michele. "It was advantageous to be able to jump right into conversations that had focused attention, get insight, and ask specific questions. The participants got to know each other fairly quickly. We also had a finite time frame, so it promoted efficiency in communication."  
Michele also said it's a natural filtering process. Those who are really serious about the program will continue to come. "The mentors don't even get the usual 'in-person' networking benefits out of the event. And yet, they are still happy to participate because they genuinely want to help the students," she explained.
---
Read what some of our participants had to say...
 "I've been in the CS tri-mentoring program for seven or so years now, and I'll keep coming as long as they'll have me!  Talking to the mentees helps me stay more up-to-date with what is being taught at university, and the challenges faced when trying to enter the technology workforce."

~ Christin Wiedemann, Mentor and President at Radical I/O
 "The online kick-off minimized the differences between student groups. Extroverted and introverted students were on the same level, as no-one had an advantage in terms of approaching the mentors. I would encourage future students to definitely consider joining the program."

~ Petal Vitis, Mentee and 4th year student
 "We were all given many opportunities to chat with each other, so it felt much more interactive. I was able to easily ask direct questions to industry professionals. For students joining tri-mentoring:  be curious. Setting expectations for what you want help with is really important."

~ Anna Jiwon Song, Mentee and 5th year student
"I think the tri-mentoring program is being done exceptionally well online. We were all visible on the virtual platform and made a conscious effort to include everyone in conversations. Mentors and students can connect without the need to travel to UBC and back."

~ Sanja Frketich, Mentor & Software Development Manager, Amazon
 
From all accounts, this virtual forum is opening up more avenues than imagined.
The next virtual tri-mentoring kick-off group begins September 16 and there is another scheduled in October.