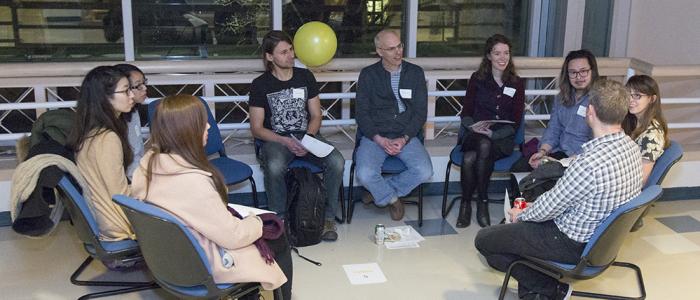 Tri-Mentoring Program
The Computer Science Tri-mentoring program was launched in 2002 as a pilot program to match junior undergraduate/graduate students with senior undergraduate/graduate students, who are in turn matched with industry or faculty mentors. Junior students get advice from senior students regarding course planning, student life, and opportunities for extracurricular activities. Both junior and senior students get a chance to explore career options and hone their networking and communications skills by participating with their mentors in such activities as job shadowing, company visits, career fairs, and industry panels.
Here is a video on what mentors and mentees have to say about their experience. 
To participate:
You will need to fill in an online application form.  You be notified by email once the online application opens. 
Details
The program brings together students, faculty, alumni, and industry mentors three times each year for mentoring and networking, with each triad also meeting on its own at least two times per year. The program is run by a group of student representatives together with the program coordinator, Michele Ng, the Career Planning and Placement Coordinator, Diane Johnson, and with help and guidance given by the Student Development Committee.

New features are constantly added to the program, including the creation of a student-led steering committee, the incorporation into mentoring events of icebreaking activities such as "speed mentoring sessions," the establishment of Incredible Mentor Awards for long-term service, and the inclusion of graduate students into the program. The program evolved from a 45-member pilot program in 2002 to a 400-member full program in 2018, and is currently the largest mentoring program at UBC's Vancouver campus.
The 2017-2018 undergraduate tri-mentoring program has the following features:
A "speed mentoring" activity at the kick-off event. Students will network with mentors in small groups and find out about the mentors' career paths, their advice to students about how best to prepare for professional life (what technical skills are useful, the value of co-op and other work experiences, and what type of extra-curricular activities to join); and their insights regarding labour market trends and effective job search approaches
Technical interview skills practice sessions with industry mentors (for senior students)
Resume feedback clinics
Information for senior students
Get one-on-one advice and guidance on careers in Information Technology by signing up as a senior student in the Computer Science Tri-mentoring Program.  You will gain insight on what it's like to be working in the IT field and get a chance to hone your communication, networking, and job search skills.  You will also get a chance to share your experience as a senior Computer Science student with your junior mentee.
Benefits of being a senior mentee
Receive mentoring from a faculty member or an industry professional, and provide mentoring to a junior student

Networking

Learn about real-life work experiences

Develop mentoring and leadership skills

Get career advice
Requirements for being a senior mentee
You must be a second year (or higher) master's student, a second year+ PhD student, or a 3rd/4th year undergraduate student in Computer Science

Meet face-to-face with your mentor and mentee once per term, including activities such as attending career fairs, industry panels, professional association meetings.

Attend tri-mentoring kick off and wrap up events
Information for junior students
Get one-on-one advice and guidance on what it is like to be a Computer Science student at UBC and be exposed to careers in Information Technology by signing up as a junior student in the Computer Science Tri-mentoring program.  You will gain insight into course combinations, co-op programs, opportunities available to junior students, work life balance, etc.  You will also get a chance to meet with the industry/faculty mentor and gain knowledge on careers in the IT field, as well as honing your communications, networking and job search skills.
Benefits of being a junior mentee
Be mentored by a senior student

Discover networking and extracurricular activities on campus

Clarify your educational plan

Connect with fellow students

Get tips on managing classes

Receive advice on finding jobs
Requirements for being a junior mentee
You must be a first year master's, first year PhD student, or a second year undergraduate student in Computer Science, or a second year student exploring the option of majoring in a Computer Science program

Meet face-to-face with your mentor once per term,

including activities such as attending career fairs, industry panels, professional association meetings.

Attend tri-mentoring kick off and wrap up events
Tri-mentoring Sponsors
Gold Sponsors


Silver Sponsors



 
Friendship Sponsor