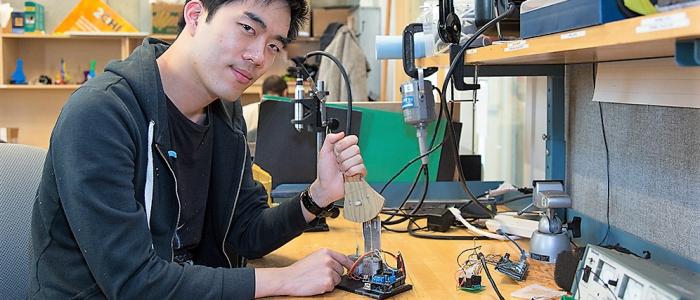 Why Computer Science at UBC?
The UBC Department of Computer Science is an internationally-renowned department, and we consistently rank among the top three computer science departments in Canada.
Why are we so successful?
Our department owes its success to four factors: our programs, our faculty, our facilities, and our student-enrichment activities. These factors work together to make your experience at UBC uniquely rewarding.
Faculty
Interdisciplinary Research and Teaching
We are distinguished by a conscious choice to focus on interdisciplinary research, where our faculty collaborate with professors in other disciplines, reflecting the increasing role that computer science plays in our world. Within their respective areas, our professors are highly respected internationally. As a result, their leading-edge research translates into the most current information available, which is then directly taught in the classroom.
Programs
Exciting and Cutting-Edge
As a modern, world-class computer science department, we offer core and specialized courses that enable you to work in areas such as genomics, medicine, robotics, finance, gaming, e-commerce, advertising, management, web technologies, or environmental technology. In all, we offer more than 100 different courses in the field.
Student-Enrichment Activities
Involvement and Innovation
We take great pride in being an incredibly friendly and collegial department. We believe learning should be fun! We also believe that learning doesn't just take place in the classroom. We've developed many pathways for you, so you can develop a broad range of skills and be prepared for your career. These include the very popular science co-op and tri-mentoring programs, as well as numerous opportunities to interact with industry and to volunteer in any the department's many outreach programs.
Facilities
The Latest and the Greatest
Our facilities are second to none. In 2005 the university completed construction of a new building and a lecture pavilion that house brand new state-of-the-art facilities, including lecture halls, social areas, classrooms, a coffee shop, and labs.
If you're interested in any aspect of computer science and the exciting potential it holds for the future, our department is interested in you!
Your Program of Study
Our degree programs are flexible to accommodate your interests. Moreover we have created interdisciplinary programs that reflect how computer science is such an integral part of so many fields today. What's better, you don't need any programming experience to enter our department, so everyone is welcome. Our programs include:
Bachelor of Science (BSc) in Computer Science
Bachelor of Arts (BA) in Computer Science
Combined Major in Business and Computer Science (BCom)
Combined Major with Another Science Program (e.g., biology, chemistry, mathematics, microbiology, statistics, physics)
To see all program options, click here.
Also, note that as a UBC student, you can take any CPSC course for which you have the prerequisites, even if you're not enrolled in a CPSC-degree program.  In fact, we encourage every UBC student to take at least one Computer Science course.
Advising
To help you navigate these options, the department has an exceptional team of advisors who can answer any questions you may have about CPSC, MATH, and STAT requirements; course prerequisites; transfer credits; etc. See Routes for Getting Advice for more information. For answers to general questions about the department, please see the FAQs on our Web pages, as many of your questions may already be answered there, or contact undergrad-info@cs.ubc.ca.
BUCS/BTM Combined Business/CS Degrees