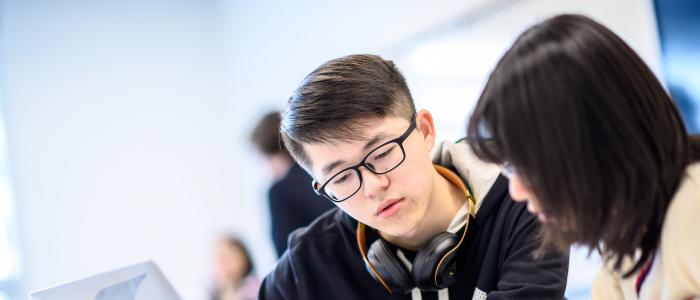 Degree Programs & Options
There are many options for your path in computer science at UBC. 
Job options in computer science
Major Programs
Promotions: Please refer to the online calendar for 2nd, 3rd, and 4th year promotion requirements.
Minor Programs
Honours Programs
Honours and Combined Honours Programs
Other Programs 
Software Engineering Option
The Software Engineering Option is available for well-qualified students in either the Major or Honours programs; it is not available for combined degrees, COGS, or Arts. This option offers a coherent set of courses pertaining to software engineering that will provide students with the necessary knowledge and skills for a successful software development career. Applicants must be enrolled in a Computer Science BSc specialization and expect to be promoted to 3rd year by the start of the next winter session when applying, or be registered in the co-op program and about to complete second year. You can find find out how to apply here.
| | |
| --- | --- |
| Program Requirements | Current |
| First Year Requirements: Computer Science Major and Honours Programs | |
| Honours (1201): Computer Science and Software Engineering | |
| Major (1200): Computer Science and Software Engineering | |
| Restricted Electives | |
| Credit Exclusion List | |
Change of Specialization (within CPSC) for Current CPSC Students
If you are already in a Computer Science specialization at UBC (i.e., any Major, Honours, Combined Major, Combined Honours, the Cognitive Systems program, etc.), OR if you are in a Minor program and you wish to switch to a different Computer Science specialization, please make an appointment to see a department advisor. 

Depending on the number and kinds of courses you've taken, that are also required in the new specialization, it may be possible to make the change during the term, as you have already been admitted into a Computer Science specialization; so, you don't have to re-apply.
If you have a combined degree involving CPSC and another department, please note that some departments have limited numbers of seats and even if Computer Science decides to admit you, the other department may not. Also, some departments only process applications once per year (usually the May intake, after the Winter Session Term 2 grades are released).
Admission to CPSC Specializations for Current UBC (non-CPSC) Students
If you are not already in a Computer Science degree specialization, then you will need to apply to get into Computer Science. Follow the normal application procedures for admission. The GPA cut-off for admission to Computer Science degree specializations is highly dependent on the number of applicants, the number of seats available, and the GPAs of the applicants. Admission is highly competitive.
Unfortunately, we are unable to make promises about admission, or about when you will be notified. Due to the large numbers of current students, applicants, wait lists and requests for advising/information, our advising team is often backlogged, so please be patient.
All Science students who are finishing first year must apply through the Faculty of Science to choose their specialization (e.g., Computer Science) for second year. Non-Science students who are not in first-year, but plan to enter Computer Science in the Faculty of Science will need to apply through the Faculty of Science. Similarly, students accepted into the BSc program for their second degree and who wish to do a CPSC specialization should go through the Faculty of Science process when applying to CPSC. Please consult the Faculty of Science for application deadlines. Admission to both the Faculty of Science and Computer Science is competitive and is not guaranteed. Furthermore, it may not be possible to switch faculties if you have too many completed credits, or if your GPA is too low.
Science students who currently have a degree specialization but not in Computer Science(e.g., CHEM, STAT, BIOL, etc.) and who wish to switch into a CPSC specialization should apply to the Department of Computer Science instead of through the Faculty of Science. Please note that we only have one intake per year in April/May to start the program in September. Visit our respective application deadlines.
Students from other faculties who wish to transfer into the Faculty of Science, and then into Computer Science, should meet with both a Faculty of Science advisor and a Computer Science advisor (separate appointments). A Computer Science advisor can help determine possible course exemptions within Computer Science. These course exemptions should be communicated to the Faculty of Science when you apply for admission to Science. For example, various MATH, STAT, and non-CPSC computing courses that are specifically for Applied Science (Engineering) students could be used for exemption in a Computer Science degree program within the Faculty of Science. (Advisors and Applicants: please be sure to inform the Faculty of Science about these exemptions.) Current second- and third-year students who transfer into the Faculty of Science normally wind up with second-year standing, but have the option of seeking third-year standing, if they are promotable to third year. If you wish to be considered for third-year standing, then this needs to be done through the Faculty of Science.