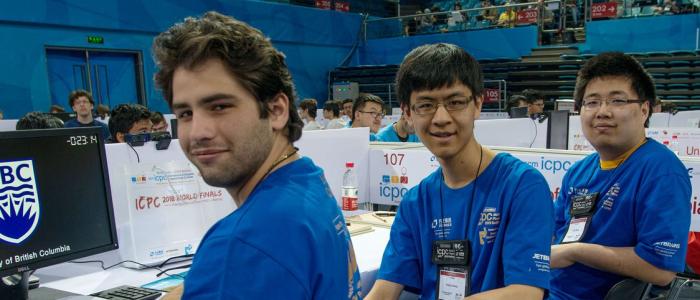 ACM Programming Competition
Put your code-writing wizardry to the test. Flex your algorithm muscles. Work with a team in an international competition.

The ACM International Collegiate Programming Contest (ICPC) is a two-tiered competition among teams of three students representing institutions of higher education.

The teams are given several problems to solve in five hours by writing computer programs. Teams first compete in regional contests held around the world from September to November each year. Top teams from each regional contest qualify for advancement to the ACM International Collegiate Programming Contest World Finals, typically held sometime in the following May.

UBC has qualified for the World Finals numerous times and won the Pacific Northwest Regional Contest many years as well, beating the likes of Stanford, Berkeley, SFU, and Washington.
---
We need your skills
In order to keep this tradition alive, we need UBC students (both undergraduate and graduate) to get involved. We typically hold practices once or twice a week in ICICS 005 year-round. There is almost always a practice 11 am-5 pm every Saturday and anyone with basic programming ability is welcome to join. Tryouts for the team typically occur around the end of September.

If you're interested in problem solving, programming, and pizza, you can find more information here: https://sites.google.com/site/ubcprogrammingteam/