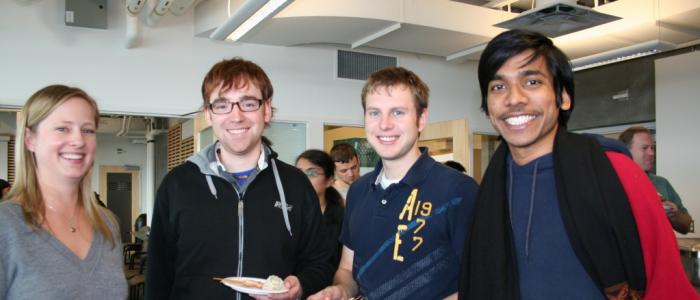 Grad Student Life
The UBC Department of Computer Science provides its grad students with exceptional professional and social opportunities. Grad students are very involved in running the department, with a student representative on every departmental committee and department meetings open to all. The students themselves organize numerous social activities including weekly teas and off-topic lectures.
Some of the opportunities for students include:
Department Meetings

Everyone is welcome to department meetings. The meetings offer grad students an opportunity to shape the department's atmosphere and events, with students and faculty engaged in dialogue on an equal footing. 

Distinguished Lecture Series (DLS)

Held roughly once per month, DLS events bring distinguished speakers from academia or industry to the UBC campus to discuss their work. Free of charge and open to the UBC community and the public, these talks are of particular interest to computer scientists.

Diversity-Related Events

Join with like-minded people in events where diversity, equity and inclusion are the common factors

Occurring at the beginning of the fall semester, grad student orientation is fully organized and run by senior grad students. This event offers a comprehensive overview of the department and campus and offers a look at the department's many social opportunities, including hiking, barbeques, and restaurant visits.

Professional Development

Get academic support, ideas for exploring your future career, suggestions for community and network building, tips on honing your research skills and development skills as a teacher.

Tuesday Tea

On Tuesday afternoons, graduate students gather with faculty in the 8th floor lounge (X836) to enjoy the view, the tea, and networking opportunities. Tuesday Teas are hosted by the Computer Science Grad Student Association (CSGSA). Currently held virtually, with a link sent out weekly to students.

Un-Distinguished Lecture Series (UDLS)

On Friday afternoons, graduate students hold their own lecture series. Presentations are casual, non-work related, generally entertaining, and frequently followed by a trip to Koerner's pub.

Other events organized by CSGSA

Past events have included holiday parties, painting sessions, barbecues, curling competitions, laser tag, and a coffee co-op (in which students share high-end espresso equipment).