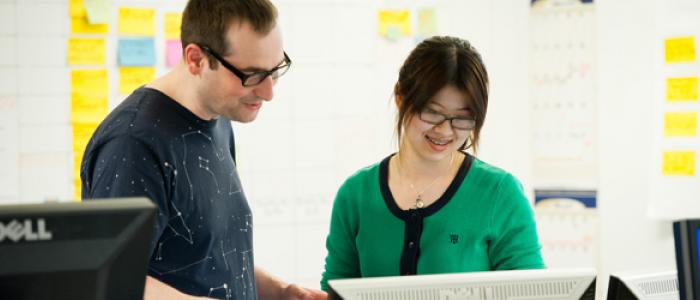 Computer Science Co-op Program
Co-op is an option in which students intersperse their school terms with real work. The program offers students opportunities to put what they have learnt from school in perspective. Many students choose to come to UBC for their Computer Science degree because our Co-op program is well-supported by the department, UBC, and the local computer industry. Students also find work across Canada, in the United States, and in Japan. The program offers students opportunities to work in industry or academia in salaried positions for 8-20 months (depending on the academic program).
Testimonials
"My Co-op Coordinator worked with me to make my Co-op experience top notch. She was always prepared for her lectures and cared about helping her students reach their maximum potential in the workplace. She was always looking for ways to improve the Co-op program, including bringing in new companies to hire from UBC and exposing the quality of the Co-op program globally."
Leemor Yuravlivker, Co-op Alumni
"Co-op helped me transition into the next phase of my life. I became more responsible, mature and independent. I even became happier as my personal network of friends and colleagues grew. I saw a lot more than I could ever imagined."
Tracy Ng, Co-op Alumni
"At Electronic Arts, we've been extremely pleased to work with UBC Co-op students. EA provides meaningful opportunities for students to contribute directly to the video games they love and collaborate with some of the most innovative professionals in the technology industry. Many UBC Co-ops have joined us full-time as the future talent and leaders of Electronic Arts!"
Sarah Thompson, University Relations Specialist, Electronic Arts
"At Safe Software, we are dedicated to training our Co-op students and easing their transition into our corporate culture. Our technical leaders provide thorough and frequent code reviews. In turn, we encourage students to provide feedback throughout the term to help us improve their experience. Over 200 Co-op students have been hired by Safe Software since the company's inception, many of which have become full-time employees at Safe upon graduation."
Felipe Vera, Director of Engineering, Safe Software
Benefits of Co-op
Graduate with work experience puts you ahead in the job market
Acquire marketplace skills that school doesn't provide
Hone your programming and analytical skills in meeting real world demands
Develop a network of professional and academic contacts to act as references and referrals
Better understand your career interests
Put school work into perspective
Build a stronger application for graduation studies
What Areas of Jobs Does Co-op Offer?
Here are some areas of co-op jobs:
Bioinformatics
Business analysis
Database management
Graphics
Games development
Human Computer Interaction
IT support
Mobile programming
Project management
Quality assurance
Research
Web applications
Who are the Co-op Employers?
Some of our employers include:
Amazon
AppNeta
BlackBerry
Electronic Arts
Facebook
Google
IBM
MDA
Microsoft
Morgan Stanley
SAP
TELUS
UBC
Who can Apply?
B.Sc.,  B.A. or BCOM students majoring in Computer Science/Cognitive Systems (Computational stream) who have completed or are in the process of completing CPSC 110, 121 and 210, and BCS students who are in the process of completing CPSC 110, and have demonstrated sufficient technical, communication and teamwork skills can apply. Our intakes are in September/October and February/March.
How do I Apply to Co-op?
Apply through https://sciencecoop.ubc.ca/prospective
Co-op Contacts
Co-op Program Assistants
Chloe Kim
Tel: 604-822-8844
Email: cscoop@sciencecoop.ubc.ca
Kate Wang
Tel: 604-822-9328
Email: csadmin@sciencecoop.ubc.ca
Co-op Coordinators 
Girish Chandra A.
BA (Computer Science) & Bachelor of Computer Science (BCS)
Room 106B, ICICS/CS Building
Tel: 604-827-3733
Email: girish@sciencecoop.ubc.ca
Constance Wun
Computer Science, Cognitive Systems (Computational Intelligence and Design)
and Combined Major in Business and Computer Science (BUCS)
- Students with last names starting A - J
Room 145, ICICS/CS Building
Tel: 604-822-9640
Email: cwun@sciencecoop.ubc.ca
Lindsay Grant
Computer Science, Cognitive Systems (Computational Intelligence and Design)
and Combined Major in Business and Computer Science (BUCS)
- Students with last names starting K - R
Room 106C, ICICS/CS Building
Tel: 604-827-5350
Email: lgrant@sciencecoop.ubc.ca
Betty Cho
Computer Science, Cognitive Systems (Computational Intelligence and Design)
and Combined Major in Business and Computer Science (BUCS)
- Students with last names starting S - Z
Tel: 604-822-0933
Email: bcho@sciencecoop.ubc.ca