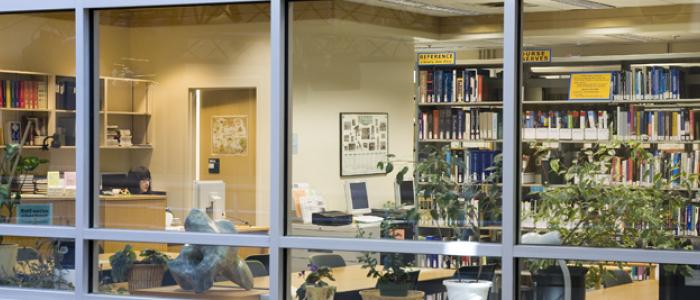 Services
More information for Grad students, Faculty and Staff [pdf]
More information for Undergrad students and visitors [pdf]
Circulation of Materials
Borrowing physical materials
All are welcome to visit and sign out regular materials from the Reading Room during opening hours.
Students registered in courses may sign out course reserves. Please ask at our front counter.
Grad students, faculty and staff who have card access to the Reading Room can sign out materials at any time (except for course reserves).
Requesting physical materials
Please contact us to request materials for pickup at the Reading Room.
Check our catalogue

for materials and send us the title and call number of the item(s)

We will collect the material and notify you when it is ready for pickup.

You may collect your request

from the designated table in the Reading Room:
Grad students, Faculty, staff and researchers with building and room access may pick up at any time
Undergrad students and visitors may pick up during opening hours
Loan periods
NEW:  We currently have the following loan periods for materials. Please return or renew by the due date.
Course reserves, textbooks: 1-week loan
Regular loans:  4-week loan
Grads, Faculty and staff:  Term loan (except course textbooks)
Holds
The ICICS/CS Reading Room catalogue does not display the availability/circulation status of our material. If you cannot find an item in the stacks, contact the ICICS/CS Reading Room staff. If an item is signed out, we can place a hold for you.
Renewals
Please return or renew your material by the due date. Email the title and call number to rdngroom@cs.ubc.ca to renew.
If another borrower has requested a book that you have signed out, you will be contacted and you may not renew the item.
Returns
Return material to the book drop at the ICICS/CS Reading Room (ICCS 262).
ICICS/CS Building Hours are Monday - Friday 7:30am - 5:00pm (Closed Weekends and Holidays). For returns, please visit during these hours.
Students registered for any CS course (including co-op) can also return materials after-hours via CSSS locker. Please contact rdngroom@cs.ubc.ca for instructions.
CS Faculty, Graduate students & Staff should have 24-hour access to the Reading Room.
Alternatively, send via campus mail for free (from residences, etc.) or by mail. Please allow at least a week for material to arrive at the Reading Room.
Please address to:

ICICS/CS Reading Room
262 - 2366 Main Mall
Vancouver, BC
V6T 1Z4
Access Control
24-hour access to the Reading Room is available to Faculty, Graduate students & Staff in Computer Science or connected to ICICS.
Graduate students whose supervisor is affiliated with ICICS (see ICICS Faculty/Member Directory) may request card/fob access:
Print and complete the access request form [PDF]
Ensure that you have obtained a UBC card (or an access fob, if your card is not authorized for access)
Have your ICICS supervisor sign the form
Contact us to arrange an orientation session, hand in the form, and have your access updated.
Other students in Graduate courses with material currently on course reserve may be able to get Reading Room access for the term -- with permission from the instructor and the Reading Room Coordinator. Note that access to the Reading Room does not ensure building access.
If you have any questions, please speak to the staff or email rdngroom@cs.ubc.ca.
After Hours Access
Please remember to use your access privilege responsibly:
Do not open the door for anyone after hours
If the alarm sounds, ensure the doors are closed
Sign out any material that you remove from the room
Scanning, Printing & Photocopying
Our public workstation has a CD drive and is attached to a scanner. Headphones are available for use in the room.
The Reading Room does not have printers or copiers available for students.
CS Graduate students may access departmental printers and photocopiers. More information here (MyCS login required).

CS Undergraduates: more information on paying for printing here (MyCS login required).
Study Space
Our study spaces are meant for the use of Reading Room materials only.
Course Reserves
Reference and Information
Email us any time. Please check our opening hours [pdf] for information on Zoom drop-in hours, where you can ask questions, get help or chat.

Gifts & Donations
Gift-in-kind donations
If you are interested in donating to the ICICS/CS Reading Room, please contact us. We will accept gift-in-kind materials (books, reports, etc.) that are suitable for our general collection.
We would like to acknowledge the following gifts:
Stone sculpture donated by Rabab Ward in memory of Peter Cahoon
Framed posters donated by Deb Wilson
New study chairs purchased by ICICS (Panos Nasiopoulos, Director)
Monetary donations
We welcome support made to the ICICS/CS Reading Room. You will receive an official, registered UBC tax receipt.
Your donations have been used for: