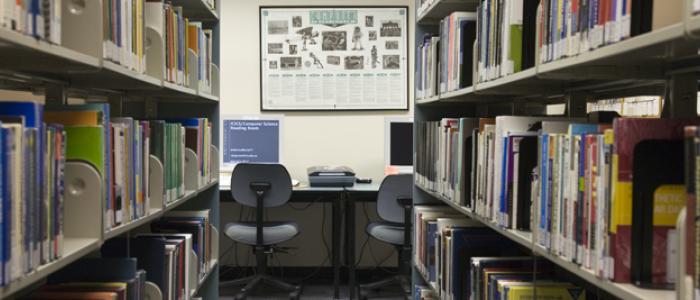 ICICS/CS Reading Room : About Us
Getting Started
For Graduate students, Faculty and Staff [pdf]
Information on accessing our facilities and finding and using our resources.
For Undergraduate students, non-Departmental users and Visitors [pdf]
Information on accessing our facilities and finding and using our resources.
Start here for help with:
Computers & Software
We have two public workstations with Internet, scanners, CD/DVD drives and Reading Room catalogue access, plus an information kiosk. For more information, see the FAQ [pdf].
For information on free software available for download, see the MyCS page.
For more information on Computer Science accounts, computing facilities and equipment, please check the appropriate forum:
Computer Science Computing Services (MyCS login)
Scanning, Printing & Photocopying
Two of our public workstations are attached to scanners.
The Reading Room does not have printers or copiers available for students.
General-use photocopiers can be found at Education Library (2125 Main Mall), Woodward Library (2198 Health Sciences Mall), other UBC Libraries, and Copiesmart (103-5728 University Blvd in the Village).
General-use printers can be found at UBC Libraries and Copiesmart.
All users can access two printers in the ICICS/CS building: printers cpsc/iccs-002-pay4print and cpsc/iccs-X335-pay4print (7¢/page) are available in ICCS-002 & ICCS-X335. A UBC PayForPrint account is required. Login to the PayForPrint website from any computer and use Web Print to submit jobs to those printers.
CS Graduate students may access printers in ICCS 108, ICCS 212, ICCS 306. Photocopiers are available in ICCS 212, ICCS 306, and ICCS X552. More information here (MyCS login required).

CS Undergraduates may use the RR scanners or see staff for permission to remove material for photocopying. Printers are available in ICCS 002 andf X335. More information on paying for printing here (MyCS login required).
Fair dealing guidelines for members of the UBC community  (UBC Copyright)
Hint: unauthorized copying or unlicensed downloading of an entire copyright-protected textbook is NOT permitted.
Other Equipment
Equipment available for use in the Reading Room includes a stapler, outlets for laptops, phone/tablet charging station, television with VCR, headphones and Kindle Fire tablet.
Equipment available for loan includes Kindle eReaders, Kobo eReaders, Google Cardboard VR headset and scientific calculator.
Please ask the Reading Room staff if you need assistance with any equipment.
Study Space
The Reading Room has silent/quiet study space available for students and visitors during opening hours and 24/7 for authorized Graduate students, faculty, researchers and staff.
This informal learning space is for individual study.
Gifts & Donations
Gift-in-kind donations
If you are interested in donating to the Reading Room, please contact us.
We will accept gift-in-kind materials that are suitable for our general collection. Please see here for more information on book donations.
We would like to acknowledge the following gifts:
Stone sculpture donated by Rabab Ward in memory of Peter Cahoon
Framed posters donated by Deb Wilson
New study chairs purchased by ICICS (Panos Nasiopoulos, Director)
Monetary donations
We welcome support made to the Reading Room. You will receive an official, registered UBC tax receipt.
Your donations have been used for:
Find us on Twitter