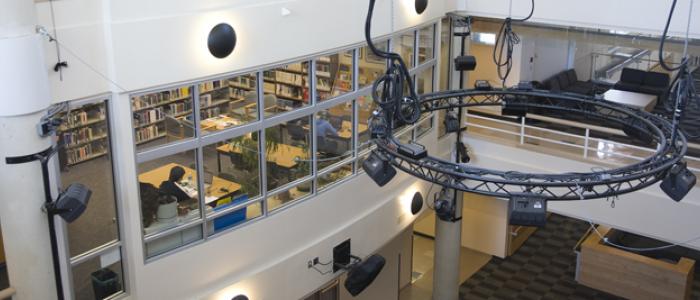 ICICS/Computer Science Reading Room
Please check our opening hours [pdf] for information on room access and Zoom drop-in hours. (Next: Wednesday, August 12 from 10 - 11am)
Undergrads can check out our updated course reserve list [pdf] to find some online resources.
---
Returning books to the Reading Room
Please address to:
ICICS/CS Reading Room
262 - 2366 Main Mall
Vancouver, BC
V6T 1Z4
Options:
1) Send via campus mail for free (from residences, etc.)
2) Drop off at Campus Mailing Services (8:00am-3:30pm)
2329 West Mall
Vancouver, BC
V6T 1Z4
3) Send by post/mail
---
The ICICS/CS Reading Room provides dedicated, in-house information resources and assistance for the Department of Computer Science and the Institute for Computing, Information and Cognitive Systems:
Current core collection of books, journals, theses, videos and more.
Electronic resources available online, on eReaders or on our workstations.
Course Reserves for CPSC and other related courses.
In-person reference, information and research assistance during open hours (or by email).
Access to computers, equipment and individual study space during open hours (and 24/7 for departmental graduate students, faculty and researchers).
We are one of the independent UBC reading rooms.
Opening Hours
The Reading Room is open Monday to Friday, unless otherwise indicated.
Opening Hours [pdf] are also posted on our doors and in the room.
Location
The Reading Room is located in Room 262 of the ICICS/CS building. A map is available to help you find your way.
Staff
The Reading Room has two part-time staff to help you:
Bernice Koh, Reading Room Coordinator
Nobu Kawaguchi, Reading Room Assistant
Contact Us
Mailing address:

ICICS/Computer Science Reading Room
UNIVERSITY OF BRITISH COLUMBIA
262 - 2366 Main Mall
Vancouver, B.C.
V6T 1Z4
News
Our monthly newsletter [pdf] includes announcements, new books and new journals.
Our Facebook page includes book reviews, stories and links.
Our Twitter feed includes new books, journal issues, articles and notices.
Find us on Twitter