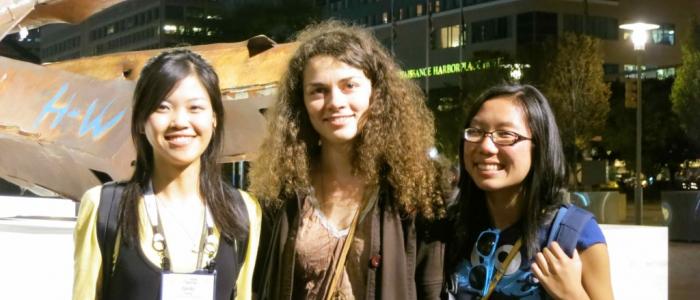 Conferences
The Canadian Celebration of Women in Computing (CAN-CWiC) 2016 will unite technical women from across Canada for networking, mentoring and planning for Canada's technical future.  The conference will inspire women at all points in their careers - from first year students to senior technical women with years of industrial experience.   The career fair will provide an excellent opportunity for companies to recruit technical talent from across Canada. 

The conference will be held in Ottawa, Ontario on January 22, 23, 2016.  Travel scholarships (up to $500) are available with priority given to attendees traveling from outside Ontario.  
The Grace Hopper Celebration of Women in Computing is a series of conferences designed to bring the research and career interests of women in computing to the forefront. Presenters are leaders in their respective fields, representing industrial, academic and government communities. Leading researchers present their current work, while special sessions focus on the role of women in today's technology fields, including computer science, information technology, research and engineering.
See Testimonials of attendees here.
Opportunities for Undergraduate Research in Computer Science is a 3 day workshop that is research focused and will provide opportunities for undergraduate women from the USA and around the globe to work on exploratory problems in teams led by researchers from industry and academia.  Scholarships available.
ACM-W, with funding from Wipro Technologies, provides support for women undergraduate and graduate students in Computer Science and related programs who wish to attend research conferences. Exposure to the CS research world can be an important factor in encouraging a student to continue on to the next level (Undergraduate to Graduate, Masters to Ph.D., Ph.D. to an industry or academic position). The student does not have to present a paper at the conference she attends. As of 2011, twenty ACM-W/Wipro scholarships will be funded annually: ten scholarships of up to $600 will be awarded for intra-continental conference travel, and ten scholarships of up to $1200 will be awarded for intercontinental conference travel.