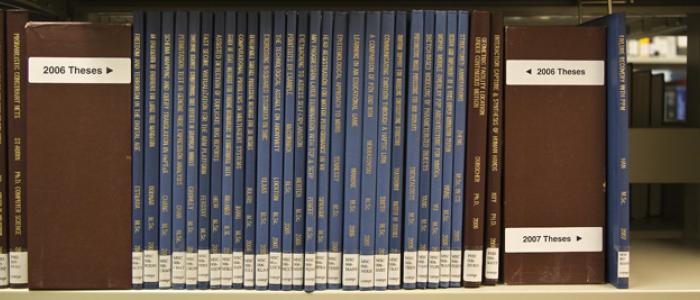 Theses
UBC Computer Science Theses
We have compiled a comprehensive directory of UBC Computer Science theses, indexed by graduation ceremony year.
Electronic 
Electronic theses and dissertations (EDTs) from 2008 on can be found in cIRcle: UBC's Information Repository. These are available in full-text PDF format.

Retrospective theses and dissertations include theses from before 2008.
Print (1968 - May 2006)
Our print collection of theses and graduating essays covers 1968 - May 2006.

In the ICIC/CS Reading Room catalogue, search by any of the following:

Author
Title
Keyword (author, title, date and degree - example: PHD 2008)

Some thesis proposals written by former doctoral students and BSc honours theses are also available in the ICICS/CS Reading Room.