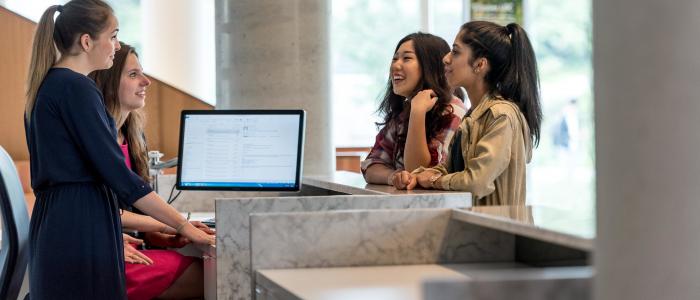 Prospective Undergrads
Welcome! We're happy to see you here.
Considering a degree in computer science? Wanting to supplement another field of study? Exciting! Why? Because you're considering studying one of the fastest growing, most prolific industries, at one of the leading computer science departments in the country at a world-class university.
Plus, you'll stand out with employers when it's time to hit the job market.
We're not going to lie...
This program is not a cake walk. But on the plus side, employers understand how tenacious and adaptable you need to be to successfully graduate from UBC computer science. Having that skillset makes you a preferred candidate in the job-hunting arena.
Versatile and Rewarding Careers
 
With a major or combined major in computer science, the applications are virtually unlimited for you. Make a career in gaming, IT, software development, medicine, education, operations management, e-commerce, web technologies or even environment technologies. Even if you don't plan on entering a degree program, a course or two can benefit any career you choose. 
Plus, if you join the department's co-op program (over 45% of CPSC undergraduates do), you'll gain valuable work experience while earning great wages.
Getting Started
Are you a 1st year student? Check out this Lab Zero presentation to get an introduction to essential resources available to you as a Computer Science student.