The department considers health and safety to be of paramount concern. Emergencies, disasters, accidents and injuries can occur at any time and without warning. Be prepared to handle emergencies.  All new faculty, staff and graduate students working in the ICICS/CS building must complete the Safety Orientation Checklist.
Report all accidents or near-miss incidents immediately to your supervisor, CS Emergency Director and CS Department Head and within 24 hours in the UBC on-line Central Accident Incident Reporting System (CAIRS).
When calling in an Emergency:

1.  Have the building name, address and room number ready
2.  Dial 9-1-1
3.  Specify whether you need Police, Ambulance or Fire.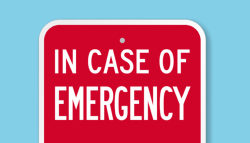 Emergency Preparedness
What can I do to be better prepared BEFORE an emergency occurs?
Resources
Safety On Campus
UBC Safe is a free mobile safety app available for iPhone and Android devices for the UBC Vancouver campus. This multi-function app puts direct access to campus safety resources and security tools in your hand, while on the go. 
Mental Health