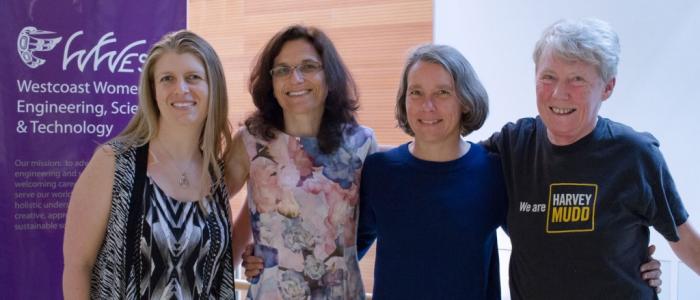 Activities
Above: Four Generations of NSERC Chair for Women in Science and Engineering, BC/Yukon
We're always looking for grad and undergrad reps. If you're interested in joining the committee, please email Michele Ng
Undergraduate Community Building
The Committee for Outreach, Diversity and Equity (CODE) luncheons and dinners are held regularly; speakers from industry and academia are invited to come and share their career experience with students.  We also hold workshops and panels on topics designed to encourage women in Computer Science. Past topics have included salary negotiation, presentation skills, preparing applications to graduate school, and "Thrive as a Women in Technology." CODE encourages students from underrepresented groups to set up their own affinity groups to hold social and career-related activities with financial and administrative support from the committee.  The CODE student members also organize an informal mentoring programs called CS coffee chat to encourage interactions between senior and junior Computer Science students.
Graduate Community Building
CODE sponsors the Bi-Annual Grad Dinner. This event happens twice a year, usually in October and April. It is an opportunity for female graduate students, post-docs, faculty, and tech staff to meet in an informal setting outside of the department. These dinners are hosted by one of the faculty or staff members.
Affinity Groups
CODE supports and encourages underrepresented student groups in the CS Department to form affinity groups to empower student leaders to design activities and programs that would benefit the group.
QueerCoded 
We are a group of CS students who identify under the queer and/or trans umbrellas. We would like other students like us in the department to have a safe space to connect with the queer community in the tech field, provide resources and support needed, and improve the visibility of the queer and trans people in CS as well as raise awareness throughout the department.  
QueerCoded Facebook Page: https://www.facebook.com/QCUBC/ 
Women in CS 
UBC WICS aims to build a strong community of women in Computer Science at UBC. We seek to empower women by providing opportunities to build lasting connections with other women in tech, and supporting each other as we progress through our time at UBC! 
UBC WiCS Facebook Page: https://www.facebook.com/ubcwics/ 
Our Tri-Mentoring program serves both genders, but we have been able to encourage women to participate, with over 50% of the participants being female.
GIRLsmarts4tech is a one-day computer science workshop for grade 7 girls.  The goal of the workshop is to introduce computer science to young girls through a series of educational and interactive activities and give them more confidence with computers and technology.  The workshops have been offered annually since 2004.
See the GIRLsmarts4tech website for more information.
CODE coordinates and supports the participation of female UBC students to attend conferences involving women in Computer Science. Examples include Canadian Women in Computing Conference, Grace Hopper Conference, CRA-W Graduate Workshop, Harvard's WeCode and CMU's OurCS Conference.