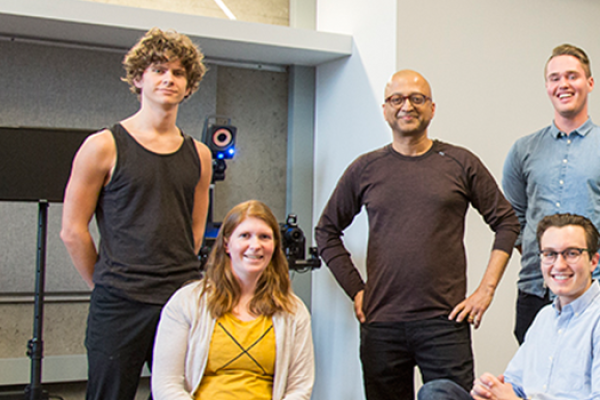 Professor Dinesh Pai Receives the 2020 CHCSS/SCDHM Achievement Award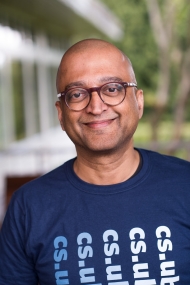 A custom-built skin measurement device.
A new motion capture system for outdoor dynamic activities.
Eye trackers that probe your brain.
3D full-body colour scanners.
All these ultra-cool tools help Professor Dinesh Pai and his students conduct their research in the Sensorimotor Systems Laboratory at UBC's Computer Science Department. And it's because of his impactful contributions in the field of computer graphics research that he's been awarded the 2020 CHCCS/SCDHM Achievement Award by the Canadian Human Computer Communications Society.
The award is presented to a Canadian who has made substantial research contributions to advance research and education in computer graphics, visualization, or human-computer interaction. Typically, it's presented at the annual Graphics Interface Conference, which this year had been scheduled for May. Unfortunately, the event won't happen physically, due to the issues surrounding COVID-19.
Professor Pai is very honoured to receive the award. "It's nice to be recognized by the computer graphics community, because I'm involved in so many other types of research," he says. Dinesh attributes his drive to an insatiable curiosity. "I'm very excited about my work. I'm always curious and have always had a desire to learn and discover more."
Across his career, Dinesh has also explored robotics, sound, physics simulation, haptics, biomechanics, and even neuroscience.
Dinesh has made a great impact on the students he has taught. "More than a dozen of the PhD students and postdocs who have worked with me are now teaching as professors at top universities in Canada and abroad," he said. Others carry jobs at places like Adobe and some have leadership roles in the graphics and haptics industries.
Professor Pai's current area of research is specifically focused on building accurate digital humans. By physics-based simulation of humans and their bodies, these advancements have helped make things possible like: 
  - More realistic characters and visual effects in movies
  - Predicting how apparel and wearables fit
  - Using human data to make predictions on a large scale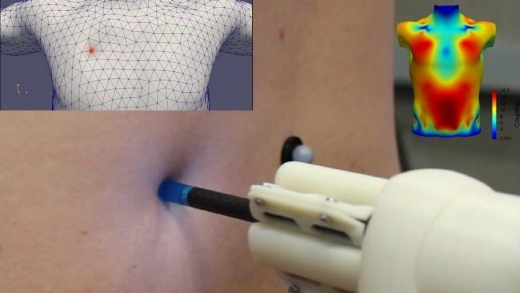 Professor Pai is quite the accomplished scholar. Some of his highlights include:
Received numerous grants, awards and spoke at over 100 invited lectures

Holds a Tier 1 Canada Research Chair

Recipient of UBC's Killam Research Prize

Received an prestigious international research grant from Human Frontier Science program

Founded Vital Mechanics Research to develop applications for his human simulation research

Directs the Sensorimotor Systems laboratory
We congratulate Professor Pai for his continued valuable contributions in computer graphics. He himself is the ideal model of all this Achievement Award stands for.