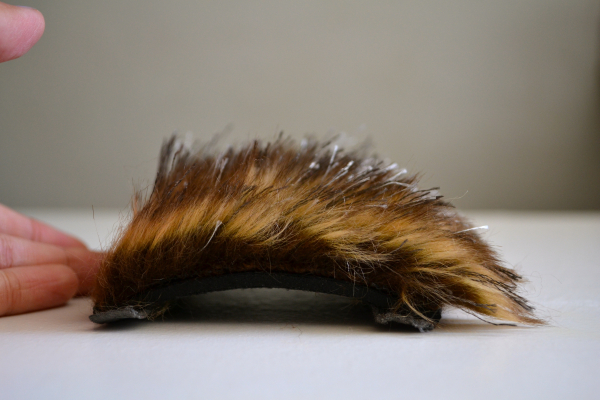 Anna Flagg and Karon MacLean's "Smart Fur" on the Cover of New York Times Magazine
The conductive "smart fur" touch sensor developed by Anna Flagg and Karon MacLean at the University of British Columbia's SPIN lab was featured as one of the New York Times Magazine's 32 Innovations that Will Change Your Tomorrow. The project appeared on the cover of the June 3, 2012 special Innovations issue, as well as in Metro News.
The smart fur prototype is made up of conductive threads sewn into thick animal-like fur, and measures resistance changes over time as hand motion disturbs the number of crossings between conductive threads. This time-series data is combined with pressure data, and analyzed using machine learning methods to differentiate different types of touch gestures key to emotional communication.
This research is done to advance touch gesture recognition in the Haptic Creature, an entirely touch-based therapeutic social robot. The eventual goal of the project is to help enable the Haptic Creature to sense human emotion through recognition of touch gestures, and ultimately create more emotional machines that can help people feel better.