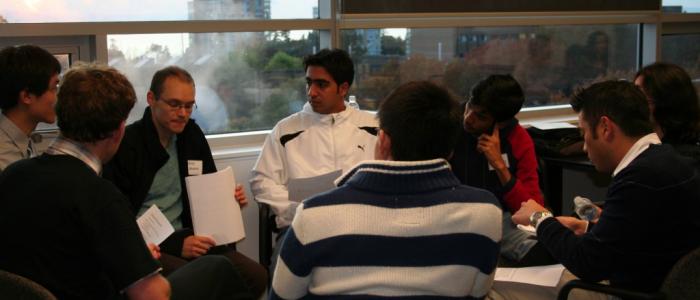 Department Reading Groups and Seminars
Currently not being conducted, due to COVID-19.

Undergrad students are encouraged to participate in reading groups and seminars conducted by various research groups in the department. This is typically a non-time-intensive way to get involved, and is therefore the first and best way to learn about a research area and to get to know the faculty and graduate students in that area.
Throughout the year, a number of invited speakers give presentations in the department (from 15:30 to 16:30 on selected Thursdays), and undergraduate students are welcome to attend.  Watch for posters and announcements in the department.  Some of these talks are aimed at a general audience; others are more specialized.
For those students who can make a somewhat larger time commitment, working as a volunteer lab assistant is a valuable experience. Faculty members are more likely to supervise an undergrad student whom they have come to know in some capacity (e.g., in the context of a Undergraduate Student Research Award (USRA), CPSC 448 (Directed Studies), or CPSC 449 (honours thesis)).
Check out the research page for a complete list of research groups.  Note that some research areas are quite broad and have multiple areas of interest; hence, the reason for so many more-focused reading groups.