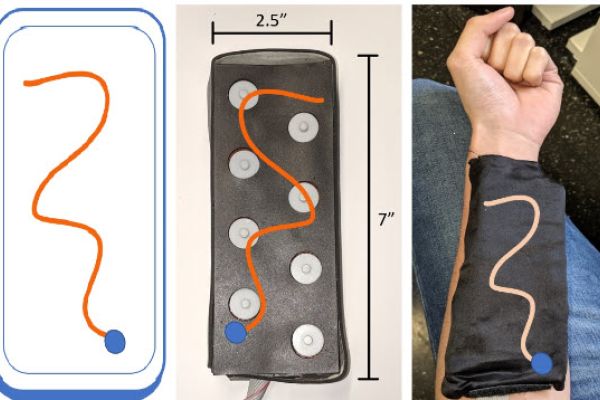 Paper analyzes how haptic messages can be like an inside joke
How can people access the warmth and nuance of physical touch, remotely through tech? 
This work began as part of a research internship with Facebook Reality Labs (now Meta) for UBC Computer Science PhD Candidate, Xi Laura Cang, She was supervised by Dr Ali Israr, who led haptics research and development at Facebook Reality Labs (now at ByteDance), and in collaboration with UBC CS Professor Dr. Karon E. MacLean. 
Their resulting paper, "When is a Haptic Message like an Inside Joke? Digitally Mediated Emotive Communication Builds on Shared History" was published in IEEE Transactions on Affective Computing, Jan.-March 2023, pp. 732-746, vol. 14  DOI Bookmark: 10.1109/TAFFC.2023.3244520

The researchers state in the abstract, "Touch is valued for supporting emotional bonds. How can people access its warmth and nuance remotely, when tech-mediated proxies are so different from direct touch?"
The team set out to assess the viability of haptic animations as affect-embedded tactile messages by surveying people in long distance relationships, and identified a set of 10 common emotion-imbued scenarios. They used a novel prototype of a wearable spatial vibrotactile display (see image below) and designed haptic encodings to match the provided scenarios, as well as having the participants design some of their own. A week later, 21 individuals interpreted the sentiments from the encodings that were designed by themselves, a partner or a stranger.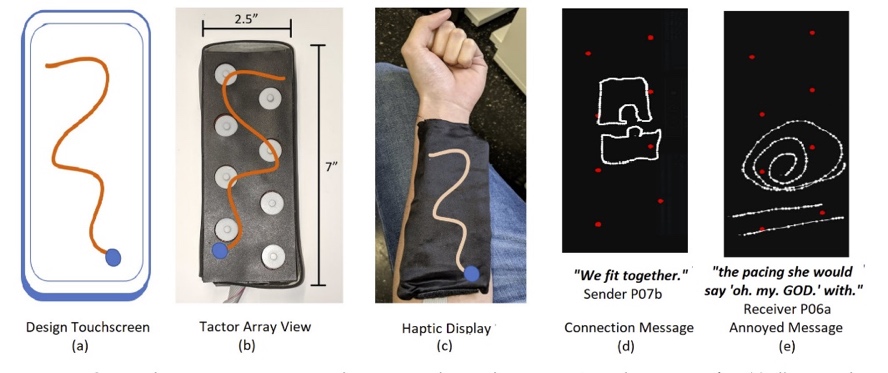 A striking finding was the participants' use of shared context when it was available, building on 'inside stories' to communicate subtle meanings with high effectiveness despite the unfamiliar medium. In the paper, the researchers analyze recognition accuracy and provide insights into what it might take to make interpersonal haptic messaging work.

IEEE Transactions on Affective Computing publishes research on the design of systems that can recognize, interpret, and simulate human emotions and related affective phenomena.
More about Xi Laura Cang
More about Dr. Karon MacLean