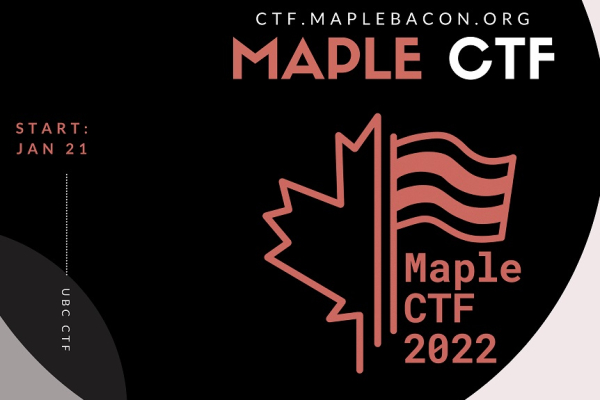 Inaugural UBC Capture the Flag event to be hosted by Computer Science team
Participating in a Capture the Flag (CTF) competition is not only fun and exciting, but it provides the ultimate environment for putting one's coding skills to the test, working as a team, or even learning a new computer language on the go.
Big on the circuit, UBC's Maple Bacon CTF team members know this firsthand. And now, the team is about to sink their teeth into an even meatier endeavour by holding their very own CTF event.
This January 21 – 28, Maple Bacon is hosting the inaugural Maple CTF event, open to anyone at the University of British Columbia, including faculty, staff, and students.

"As long as participants have a verified UBC email address, they can register and it doesn't matter what their level of coding knowledge is," said Event Manager and Maple Bacon team member, Jamie Polintan. "We have designed challenges to accommodate everything from beginner to advanced. There's something for everyone." 
What is CTF?
Capture the Flag
(CTF) is a computer security exercise named after the traditional outdoor sport of that name, where competitors attempt to break into web sites, software or hardware with deliberately created vulnerabilities to find "flags" hidden within them
The nation's best
The CTF team was conceived in 2019. "Since then we've been growing in numbers and we've maintained the number one position in Canada," Jamie said. "Maple Bacon landed in the top 10 out of 538 teams in Dragon CTF 2020, which is a global event sponsored by Google Cloud. We also tried out DEF CON and landed in the top 25. We now feel ready to host our own event after all this success."  
Dragon CTF is a popular international CTF competition, and the DEF CON CTF is the best-known event of them all, because that's where the idea for CTF events originated.
Assistant Professor Robert Xiao, UBC Computer Science, is an advisor for the UBC CTF team, and said, "It's like a rite of passage and a big step forward for the team. It's common that after some years of success in the competitive field, a CTF team hosts their own event. Maple Bacon is definitely ready for this, and I am very proud of how far they've come. My role has simply been to act as a facilitator and help get the ball rolling. But really, this event has been created and planned primarily by the students."
Planning and partnerships
The team's dream of hosting a CTF event started to come together a few months ago when Arista Networks reached out to propose a sponsorship. The team jumped at the opportunity. Arista will be co-sponsoring the event with Teck Resources, both of whom have been mainstay participants in UBC's Tech Career Fairs of the past.
Jamie points out there have been many people involved in bringing this event to fruition.  "Besides the generous help from our sponsors, our various team members like Jason Ngo, Lily Lin and others have put in a ton of hours. We've also had amazing support from the student society side, thanks to Cyrus Kalafchi and Ray Hua. The group has all worked really, really hard designing different types of challenges, as well as creating the event itself. It's an understatement to say that it's been a monumental team effort."
Dipping a toe in
Jamie explains why the event is only open to UBC folks. "We're keeping this first event small and only for the UBC community, because it's our first time. It's always a good idea to play in the shallow end of the pool first! But if all goes well, we hope to venture into international waters later in the year," she said.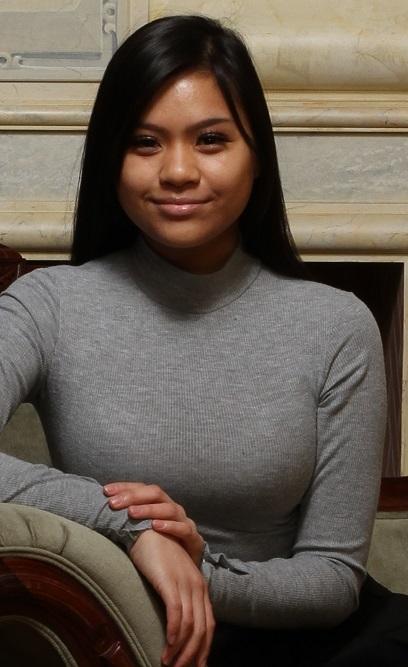 Maple Bacon is also very excited to have the opportunity to be more widely known at UBC and is hopeful to attract more members. The team is thrilled that a microbiology student just joined the team. "Anyone can join, no matter what level their coding, or what their field of study or research," Jamie emphasized. She says there are no prerequisites needed in order to solve the CTF challenges and they can be solved with just a little bit of thinking outside the box. "Participants will also have access to help via Discord, if they need hints or help."
Bringing cybersecurity out of hiding
Robert said, "I think the level of professionalism and work that's gone into planning this CTF challenge is really going to show. We are one of the few Canadian universities to actually put on an event like this, so it really speaks to the team's commitment. And honestly, it looks amazing. I also hope it really raises the level of cybersecurity awareness as a whole."
Robert himself has certainly helped put UBC on the map in terms of cybersecurity with his exceptional placements in the competitive programming world. In 2020, he placed 5th out of 170,000 people worldwide who submitted solutions for Advent of Code, an annual December contest. He placed seventh this past year out of 223,000 people who solved at least one puzzle.
Advent of Code creator Eric Wastl said, "That's truly as impressive as it sounds. Robert is also a very familiar name on the global leaderboard, showing up near the top every year since 2016!"
"Unfortunately though, cybersecurity is still a topic that's not really in the limelight," Jamie explained. "For some reason, computer security doesn't necessarily seem to be that popular, which is interesting because it's one of the more important facets of computer science that is extremely relevant. It's an integral part of a developer's journey into a career in CS. We try to make sure that club members leave here with more in-depth knowledge about all the facets of cybersecurity, ultimately making them a better programmer. Our CTF event can be a giant step in that direction."
Jamie said creating the event was a challenge in itself for her, testing her own confidence and abilities, as she'd never tackled something like this before.
"But hey, who doesn't love a good challenge?" Jamie laughed.
Register for the event 
Check out Maple Bacon on the CTF Time scoreboard

Maple CTF is being presented by: