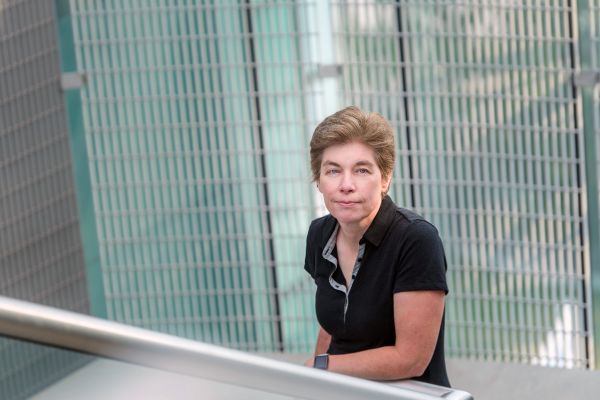 Women in UBC Science: Spotlight on Gail Murphy
A great example of a successful woman in science, Professor Gail Murphy is a computer scientist, a co-founder, board member and former Chief Scientist of UBC spin-off company Tasktop Technologies. She has served as UBC's Vice-President, Research and Innovation since 2017, and also serves on the editorial board for Communications of the Association for Computing Machinery (ACM).  Gail maintains an active research group with post-doctoral and graduate students.
Given this multitude of roles, it's not all that surprising her research focuses on improving the productivity of software developers and knowledge workers by providing the necessary tools to identify, manage and coordinate the information needed for their work.
Professor Murphy joined UBC's Department of Computer Science in 1996 and is a Fellow of the Royal Society of Canada and a Fellow of the ACM.
UBC:     Did you always see yourself becoming a researcher? 
Prof. Murphy: I did not. I worked as a software developer for five years before I went to graduate school. As a software developer, I was working on some of the fundamentals that underlie problems in how software is developed, and that is what sparked my interest in research. Gaining insights into how different research areas approach questions and gain new perspectives further fuels my interest in research today.
UBC:  Who inspired you along the way?
Prof. Murphy: My Ph.D. supervisor, Prof. David Notkin, really inspired me to pursue a research career. David always encouraged his students to follow the questions that were of interest to them and to explore new methods and approaches to answer those questions.
UBC:   Were there times you almost went in another direction?
Prof. Murphy: I love English literature and it was difficult to choose between Science and English early in my university studies.
UBC:    How has your research evolved over the years?
Prof. Murphy: The main focus of my research, which is how can we help software developers in their work, has remained pretty consistent. What has expanded over time is where and how we are looking for answers. My early research really focused on how we can extract information from software code, documentation and other descriptions to provide help to developers. Over the years though, we have incorporated more and more focus on the developers themselves – understanding how they work individually and collectively. We incorporate more psychology and have broadened the scope of our research to understand how individuals work with large information spaces and with technology, beyond software development.
UBC:   What were the biggest challenges combining the roles of researcher and company founder when you formed the UBC-spin-off company, TaskTop Technologies?
Prof. Murphy: Unsurprisingly, the main challenge was time. But I found that having many hats was an advantage because it required focus. Since our original tool at Tasktop was in part about task-focus, the tool itself and our approach to working in the company helped me gain the necessary focus due to time-slicing. I also find that having multiple things to do lets you focus on another area if one area is slowed down.
UBC:   Given the role played by women scientists in the development of computer science, why do you think that it is still often perceived as a male-dominated field?  Do you think this is changing?
Prof. Murphy: Whenever one group dominates a field, it can be hard for under-represented groups to feel comfortable and that they are equivalent contributors. It takes a long time to break down stereotypes and incorporate and value a diversity of perspectives in a field. While it is slowly changing in many workplaces and research environments, we need to continue to challenge persistent stereotypes and work towards removing existing obstacles and inequities.
UBC:   As Vice-President Research & Innovation, what do you think universities can do to better address equity, diversity and inclusion, and why is that important?
Prof. Murphy: Excellence comes from diversity. By bringing multiple perspectives together and valuing the different viewpoints, we can truly think about problems in new ways. At UBC, we are part of the federal Dimensions pilot which will help us understand where we are in terms of diversity across all those who participate in research, to understand where we have gaps and challenges and then develop practices to address those gaps and challenges.
We are committed to ensuring the environment of tomorrow looks even more diverse than today and that UBC embodies inclusion.
---
This article is one of the many stories celebrating International Day of Women and Girls in Science, which takes place every year on February 11. Spearheaded by the United Nations, this day promotes full and equal access to participation in science, technology, and innovation for women and girls. The Faculty of Science is supporting this day by featuring ten inspiring women researchers who are making their mark at UBC and beyond. science.ubc.ca/womeninscience.
---