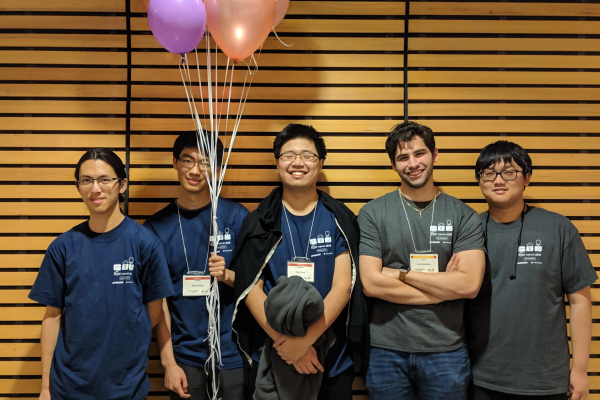 UBC Programming Team wins 2018 ACM Regional Programming Competition
The UBC ACM Programming team won first place at the 2018 ACM Pacific Northwest Regional Programming Competition, held last Saturday, November 3, at SFU, and will be advancing to the 2019 ACM World Finals.  The UBC p_X(x)=P(X=x) team faced tough competition, beating out teams from top schools in the region including Stanford, Berkeley, and University of Washington.  The team solved all 13 problems in the shortest amount of time (a full hour before the closing time), hence securing first place in the Pacific Northwest division. 
The other UBC programming teams also did very well, especially in Division 2, which is for newcomers. The teams UBC p_Y(y)=P(Y=y) and UBC WLOG managed to get, respectively, second and third place in the regionals. Two members of the UBC team that just qualified for the World Finals -- Henry Xia and Brandon Zhang -- also placed second and third in the Division 2 Regionals two years ago, illustrating the culture of consistent training amongst UBC students.  
You can check out the scoreboard here.  
UBC has done very well in this competition over the years. UBC has gone to the World Finals in 13 of the last 16 years, beating teams from Stanford, Berkeley, UW, SFU, etc. in order to qualify.  More details here.  
Here are the team members for the six UBC teams:
In Division 1 (eligible to qualify for the World Finals):
UBC p_X(x)=P(X=x): David Zheng, Henry Xia, Brandon Zhang
UBC ReDuX: Rehim Memmedli, Xingyu Zhou, David Berard
UBC Union of Bad Coders: Andrew Ting, Eugene Shen, Ben Zheng
UBC (;u;)7: Jack Spalding-Jamieson, Spencer Ang, James Zang

In Division 2:
D2 UBC WLOG: Eishan Lawrence, Ray Zhang, Kim Dinh
D2 UBC p_Y(y)=P(Y=y): Kiara Grant, Subi Rixat, Felix He
A big congratulations to the teams and to coach Lucca Siaudzionis!