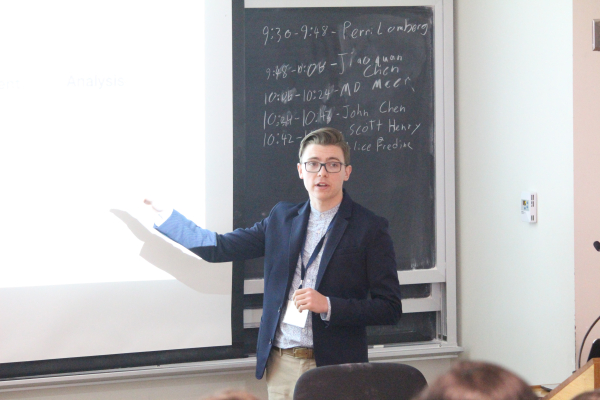 Computer Science Undergraduates Alice Fredine & Scott Henry Win Best Presentation at CUCSC
Computer Science students Alice Fredine and Scott Henry were awarded Best Presentation at the 2017 Canadian Undergraduate Computer Science Conference. Their presentation was on Social Assistive Chatbots, examining how technology can be used to empower introverts' communication. The research was developed during CPSC 444, Advanced Human Computer Interaction, taught by Joanna McGrenere. If you're interested in learning more about their research, checkout their project blog.
CUCSC (Canadian Undergraduate Computer Science Conference) is an academic conference bringing students from across Canada together to engage with the latest in undergraduate computer science research. The four-day conference invites discussion and collaboration between Canada's brightest computer science undergraduates and experts from academia and industry.
Scott is an undergraduate student doing his combined major in Business and Computer Science, and a Loran Scholar. Graduating in 2018, his passion is accelerating social change through the intersection of technology and innovation. He's worked throughout East Africa developing entrepreneurship training initiatives in Rwanda, helping to build a community of tech entrepreneurs in Kenya, and turning plastic water bottles into 3D printer filament in Tanzania. Last year Scott worked for Premise, a Silicon Valley tech startup on the growth team, expanding operations in emerging markets. He is currently on the organizing committee of Vancouver Startup Week, a week long celebration of Greater Vancouver's innovation and technology communities.
Alice is a recent graduate with a Bachelor of Arts in Computer Science where she studied as a Chancellor Scholar. Throughout her degree, she has been on the Dean's list, received the Trek Excellence Scholarship and named a Wesbrook Scholar. Alice interned at Hootsuite and Google where she took a special interest in understanding how unconscious biases are formed in the workplace. She is passionate about Women in Computer Science, attended the Grace Hooper Conference and was part of the CS Tri-Mentoring Program. Alice has competed in various app development competitions, and was placed first in the Archiact Game Jam, and second in the national IBM/TD Coding Competition. She looks forward to pursuing her tech career with Google in Seattle.
Congratulations, Alice and Scott!