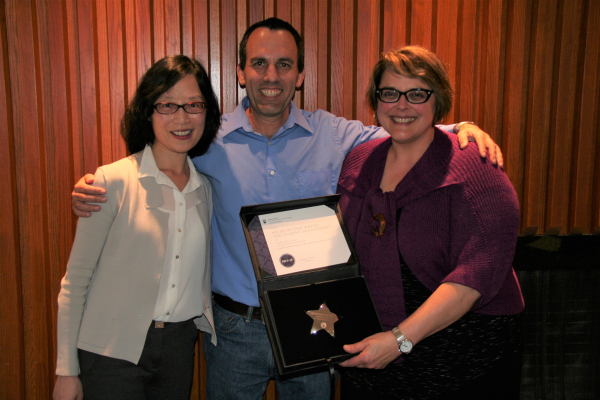 Computer Science Tri-mentoring Wins UBC Helen McCrae Award
The UBC Office of the Vice-President, Students annually recognizes exceptional contributions and significant improvements to the UBC student experience and learning environment. For 2016, they've selected UBC Computer Science's tri-mentoring program to receive the Helen McCrae Award. The award is presented to a student service provided by AMS, GSS, or UBC programs that aids in student development.
The CS tri-mentoring program began in 2002 with 45 student and mentor participants. This academic year, over 400 participants will have taken part. Total number of participants from 2001-2016 inclusive is close to 3400.
The program's focus is on helping CS undergraduate and graduate students with their career development. It matches junior students (those in the 1st or 2nd year of their program) with senior students, who are in turn matched with industry/faculty mentors. These triads participate in career-focused kick off, wrap up, and other program events. Tri-mentoring participants also receive one-to-one mentoring as well as speed mentoring and career advice within a small group setting.
Over the program's 15 year history, many of our former student participants have rejoined the program as industry mentors after they graduated. This helps the CS department to build strong connections with alumni and industry, and to establish a robust base for building a variety of student development activities. Many of our mentors have been extremely dedicated to the program. From 2002 to 2016 inclusive, 57 mentors have received our 5 years of service mentor award, and 14 mentors have received the 10 years of service mentor award!
Our thanks go out to the many people who've contributed to the tri-mentoring program's success to date:
-our students, for their willingness to engage with each other and with mentors, and to learn from these experiences.
-our industry and faculty mentors. Their dedication to our students has been invaluable.
-our CS staff, including the program coordinators, Michele Ng and Diane Johnson, as well as the additional CS administrative and technical staff who provide strong and timely support.
-the UBC Centre for Student Involvement and Careers. Their ongoing support is much appreciated.
Additional information about the CS tri-mentoring program available here. CS alumni are always encouraged to join as mentors!