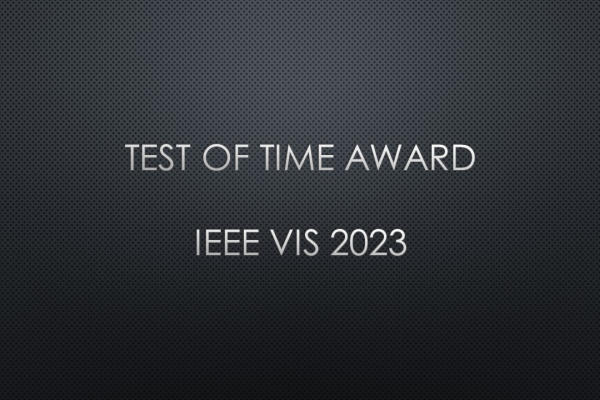 Dr. Munzner and Dr. Brehmer awarded IEEE InfoVis Test of Time Award
A Test of Time award for two UBC Computer Science researchers underscores the relevance and impact of their data visualization paper, written in 2013.
A decade ago, the collaborative efforts of Computer Science Professor Dr. Tamara Munzner and alumnus Matthew Brehmer (a PhD student at the time), culminated in their research paper, "A Multi-Level Typology of Abstract Visualization Tasks," which fundamentally altered the approach to analyzing, designing, and evaluating visualization systems. 
Today, the research paper receives a celebrated IEEE InfoVis 10-year Test of Time award.
Dr. Munzner's journey began over two decades ago when she, as a PhD student in 1999, first ventured into the uncharted territory of abstract visualization tasks. However, she admits her knowledge at the time was not yet sufficient to fully grasp the potential of this concept. "Ten years later, when deep into writing my book, I thought I still didn't know enough, and avoided writing a chapter on tasks," Tamara explained. "But many readers of my early drafts pointed out the need for this chapter, so I finally bit the bullet and dove back in, collaborating with the indefatigable Matt Brehmer, who was just starting his PhD with me."  
The Power of Abstraction
Their research objective was to provide visualization designers with a framework that transcends specific application domains. This would allow them to communicate in the universal 'language of visualization,' rather than being confined by the jargon of any particular field, be it biology, physics, or sports.
Dr. Brehmer points out that their resulting typology of abstract visualization tasks has extensive applications, spanning from data analysis scenarios to communicative activities in data journalism and STEM education. He explains that its descriptive power aids in qualitative user research, its evaluative power contextualizes procedures in controlled human factors studies, and its generative power facilitates the creation of new task-centric visualization experiences. Munzner adds, "It's more of a model paper, that guides people through the process of doing visualization itself, not an "application" paper that attempts to solve a specific real-world problem."
In receiving the Test of Time Award, Dr. Brehmer said, "The award is a testament to the qualitative approach we took in understanding why and how people visualize data across various application domains. Our classification of abstract visualization tasks has proven to be versatile, finding applications in a wide array of scenarios."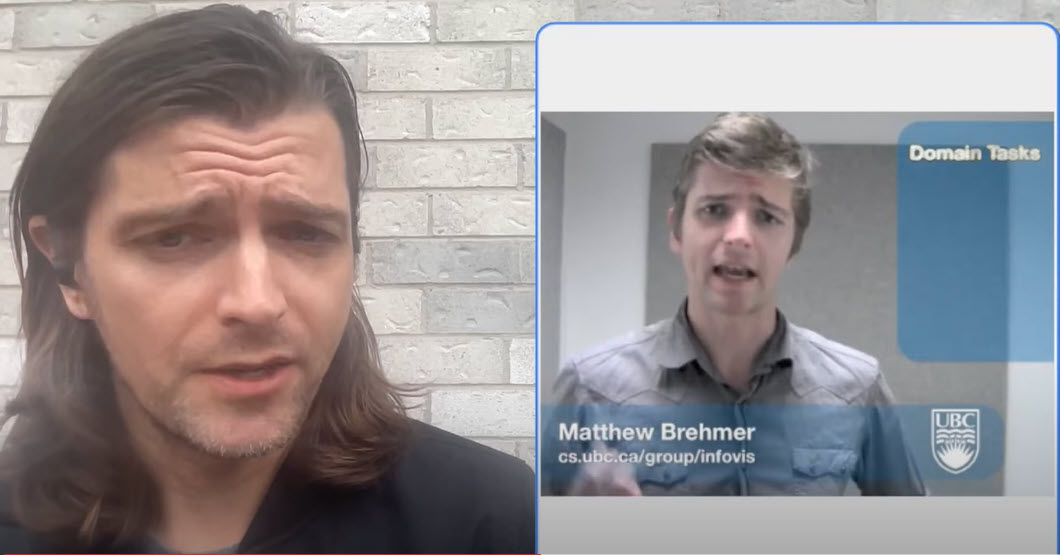 Dr. Brehmer's work that followed showcased the practical applications of their typology. His experiment comparing alternative visualization designs for mobile displays, and his contributions to a task-centric grammar for generating patient experience dashboards in healthcare settings, both underscore the broad applications and impact of their research.

Today, Dr. Brehmer works as a lead research staff member of Tableau Research, concentrating on the design and development of new experiences for communicating and collaborating around data. He is focused on synchronous remote and hybrid experiences, a topic that has attracted much interest since the onset of the COVID-19 pandemic and the ensuing rise in remote work and education. His earlier contributions to products like Microsoft Timeline Storyteller and Microsoft Charticulator also showcase the real-world applications of his research.
At this year's IEEE VIS 23 conference, Brehmer is also receiving one of only six Best Paper Awards for his new work on TimeSplines: Sketch-Based Authoring of Flexible and Idiosyncratic Timelines. In another connection to UBC, the first author on that paper is recent MSc alum Anna Offenwanger, who is now pursuing a PhD at Université Paris-Saclay.
An impressive hat trick
This is Dr. Munzner's third Test of Time Award, following recognition by IEEE VIS in 2019 and 2022, and attests to the lasting impact of her contributions. Her multifaceted involvement at the conference this year includes roles as Overall Paper Chair, instructor of a tutorial (built upon her widely used book Visualization Analysis and Design), and keynote speaker at the affiliated Visualization in Data Science symposium, a true testament to her ongoing dedication to advancing the field of data visualization.
Nurturing collaboration and growth
Dr. Munzner and Dr. Brehmer's successful collaboration is a testament to the synergy between their approaches. Matt added, "I also have Tamara to thank for imposing tactics on her group members that I believe lead to better outcomes for research projects. Like giving "pre-paper" talks and providing round-table feedback on paper drafts from all group members." 
As for the working environment for Brehmer during his time at UBC Computer Science, he recounts, "I appreciated the UBC Designing for People initiative, which got underway while I was there, as it connected HCI researchers within the department to others working in HCI across other departments. Lastly, I recall the conviviality of the graduate student body and opportunities to get involved. I don't think I would have befriended other students outside of the IMAGER lab without this social environment."
In Brehmer's blog post about the award, he adds, "I'd like to thank many people who provided ideas, feedback, and support related to this work: the UBC InfoVis group circa 2011 – 13 (Stephen Ingram, Miriah Meyer, Michael Sedlmair, Jessica Dawson, and Joel Ferstay), my co-advisor Joanna McGrenere, Ron Rensink, Colin Ware, Silvia Miksch, the InfoVis reviewers, Tamara (or course), and lastly my partner and colleague Ana Crisan."
A few words about success
Dr. Brehmer advises potential grad students coming into UBC Computer Science to embrace side projects. "Seek opportunities for collaboration. They present opportunities for technological skill development, topic exploration, and methodological breadth beyond what is contained in a series of related dissertation projects. The breadth of topic courses both within the department and across campus also provide good opportunities for these activities, and I'd encourage students to take advantage of this breadth while they have the freedom to do so."
The 2023 edition of IEEE VIS will be held October 22 – 27 in Melbourne, Australia. Tamara will be present in person, and Matthew will accept the award by video. 
Read more about Dr. Tamara Munzner's research
Read more about Dr. Matthew Brehmer's research.