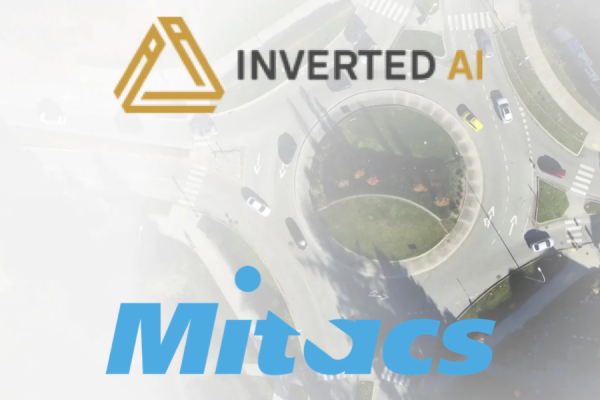 Spin-off awarded $1.2M to advance autonomous vehicle technology
Funding enables Inverted AI to better understand human-vehicle interactions
Vancouver-based Inverted AI was awarded $1.2M in Mitacs funding to advance autonomous vehicles  using next-generation artificial intelligence (AI) technology. The funding will directly support more than 14 post-secondary researchers — mostly PhD candidates — from UBC advancing knowledge in deep-generative behavioral modeling, applying their work directly to a real-world challenge.
The challenge at hand is logging the estimated 16,000,000,000 killometers of driving required in a realistic environment to show proof-of-safety for every single release of an autonomous vehicle software system.
Inverted AI uses predictive human behavioral models derived from video data. With proprietary techniques, the company transfers models into simulated environments, and uses them to drive human-like non-playable characters. The characters are statistically accurate and very similar to humans in terms of reactivity, realism, and diversity of behaviour. Importantly, the characters match the distribution of human behaviours of people in the real world.
"This new Mitacs funding enables outstanding graduate students — highly qualified personnel — to focus on research they are passionate about, research that ensures human safety, and contribute directly to solutions for real-world challenges," says UBC Computer Science Professor Frank Wood, co-founder of Inverted AI. "This funding also helps address the labour-shortage pressure we face in the AI space in Vancouver, providing graduate students with necessary support to live here."
Thanks in part to 2019 Mitacs and CIFAR funding, post-doctoral fellow Adam Scibior joined Wood in starting Inverted AI, and now serves as CTO for the company. This new round of funding from Mitacs enables Inverted AI to scale up.
"Mitacs is proud to support researchers developing advanced knowledge in the AI space, solving real-world challenges, and building long-term research collaborations with industry," says Andrea Globa, Senior Advisor–Vancouver, Business Development at Mitacs. "By collaborating with Mitacs, partner organizations like Inverted AI gain a competitive advantage by using the talent and expertise from the post-secondary sector while researchers gain the opportunity to apply academic knowledge and gain experience they just can't get in the classroom. It's a win-win for students, post-secondary institutions, small businesses, industry and the country's prosperity as a whole."
Mitacs funding has been critical in the company's success so far, as has its work with the University of British Columbia (UBC)'s University Industry Liaison Office (UILO).
"The university's goal is to support spin-off companies as they develop new products, based on UBC research, that positively impact the lives of Canadians," says J.P. Heale, Managing Director, UILO. "Inverted AI wisely leverages funding from both the company and Mitacs to conduct research at UBC in order to drive success better and faster.
For intellectual property invented at UBC, the best outcome is an IP agreement with a new local start-up company that employs local people and contributes to the economy of British Columbia. Inverted AI is a fantastic outcome."