New talent at UBC grows B.C.'s AI research expertise
Two new faculty members of the Computer Science Department have been appointed Canada CIFAR AI Chairs through the CIFAR Pan-Canadian AI Strategy.
Drs. Mijung Park and Danica Sutherland will have the goal of advancing fundamental research and boosting industry innovation in Canada's thriving AI ecosystem.
They are both affiliated with the Alberta Machine Learning Institute (Amii), based in Edmonton, one of the world's preeminent centres of AI. They will be leading research specifically in reinforcement learning, privacy-preserving machine learning, and AI for health. 
"CIFAR's Pan-Canadian AI Strategy is a big part of why Canada is such a driving force in AI research these days."    ~ Dr. Danica Sutherland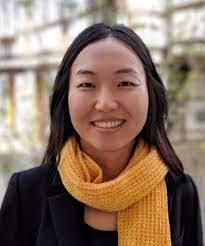 "The Canada CIFAR AI Chairs program attracts and retains in Canada the highest caliber of machine learning researchers. Our newest cohort will strengthen Canada's position as a world-class destination for AI research talent, training, and industry innovation," said Dr. Elissa Strome, Executive Director, Pan-Canadian AI Strategy, CIFAR.
The Pan-Canadian AI Strategy has established more than 100 Canada CIFAR AI Chairs since March 2017.
Park's area of expertise is in developing machine learning algorithms that are capable of preserving the privacy of public data. Dr. Park has been recruited to Canada (starting with UBC on July 1, 2021) from Germany where she has been working as a Research Group Leader at the Max Planck Institute for Intelligent Systems.

"It is a true honour to be appointed a CIFAR AI Chair by Amii and CIFAR," said Park. "I am thrilled to join forces with my new colleague, Danica, to work on some of AI's biggest challenges within the scope of this role and elevate AI within Western Canada. As a newcomer to Canada and UBC Computer Science as well, I am so grateful for all the opportunities that are being presented to me."
Dr. Sutherland was also recently recruited to UBC, coming from the U.S. where she worked as Research Assistant Professor for Toyota Technological Institute at Chicago. Sutherland specializes in representation learning, a machine learning technique that enables AI systems to extract from unlabelled datasets.
"I want to really thank CIFAR and Amii," said Sutherland. "CIFAR's Pan-Canadian AI Strategy is a big part of why Canada is such a driving force in AI research these days. The CIFAR AI Chairs and joining Amii will really help Mijung and me become a part of that, and that's a huge honour."
Dr. Santa J. Ono, President and Vice-Chancellor, UBC said, "On behalf of our faculty and students, I congratulate Danica Sutherland and Mijung Park on their appointment as Canada CIFAR AI Chairs. Their expertise and training will complement UBC's vibrant community of faculty and students, and contribute to B.C.'s growing AI ecosystem."
More about Danica Sutherland's work 
About the CIFAR Pan-Canadian AI Strategy
The CIFAR Pan-Canadian AI Strategy, the world's first national AI strategy, advances AI research, training, and innovation to stimulate the economy and improve the lives of all Canadians. 
About Amii
One of Canada's three centres of AI excellence in the Pan-Canadian AI Strategy, Amii is an Alberta-based non-profit institute that supports world-leading research in artificial intelligence and machine learning and translates scientific advancement into industry adoption. Amii grows AI capabilities through advancing leading-edge research, delivering exceptional educational offerings and providing business advice – all with the goal of building in-house AI capabilities.