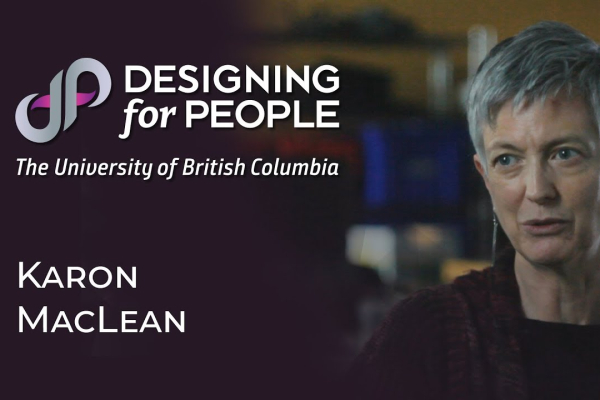 UIST Conference format was the epitome of 'human-computer interface'
Back in 2019, Dr. Karon MacLean of UBC Computer Science agreed to be a General Co-Chair for the 2020 ACM Symposium on User Interface Software and Technology (UIST) recently held (October 20 - 23). She knew it would be a sizable task. But neither she, her co-chair, Shamsi Iqbal of Microsoft Research, nor anyone else on the 43-person committee they recruited, could have imagined it would involve creating an interactive online forum out of thin air. 
Most conferences in this period are facing a similar challenge, but the bar felt especially high for UIST:  the conference is about innovation in human-computer interfaces. 

Across its four days, the successful symposium managed to attract over 700 attendees to its virtual arena. "We turned this significantly-scaled conference into an entirely virtual meeting with demos, engaging and interactive sessions, a meaningful social component and a high standard for online security," explained Karon. "What the team pulled off, beat all expectations in technical performance and even more importantly, in social design."
Innovative tech brought great engagement
The team tested myriad base technologies, then went to work designing and implementing a new kind of experience. The result? Innovative features like: a curated 'asynchronous' parallel experience with pre-recorded material; a highly-featured interactive web gallery to browse the material; using Discord chat rooms to teach authors how to demonstrate their highly physical work; and creative ways of adding value for attendees, conference sponsors and student volunteers (who are so important in delivering a vibrant program).
Key to success was a carefully curated social backbone implemented on Discord, where socialization was fluid. Popular channels included #diversity-and-inclusion channel and the playful #introduce-your-pet channel, where attendees viewed their colleagues' furry friends for a break and a laugh.
Interestingly, a post-conference survey indicated that attendees wanted to retain many of the new conference features even in future in-person meetings, combining the best of both worlds. The Discord server is now transitioning into a vibrant year-round international meeting place for the community.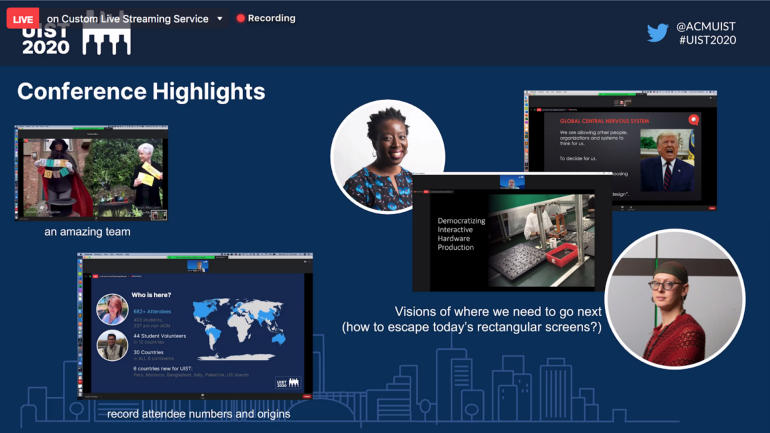 Every year, UIST brings experts together from diverse areas such as graphical and web user interfaces, virtual and augmented reality, input and output devices and more, to share leading ideas and innovations. In that respect, this year was no different than any other. Karon and the entire committee ensured that UIST 2020 remained highly interactive, fostering sharing and networking.
Learn More
An interactive gallery on the UIST website displays the conference's papers, posters and demo videos, searchable by multiple components.

More information:  https://medium.com/acm-uist/uist-day-3-was-a-great-final-day-thank-you-all-4a5dd9e052ac

More about Karon Maclean