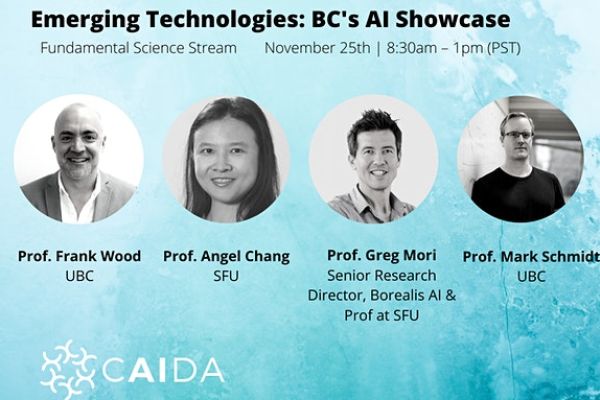 BC's AI Showcase to highlight emerging AI advancements
Emerging Technologies: BC's AI Showcase, will explore emerging and disruptive technologies in AI, featuring UBC professors, industry experts, and a student poster session, held virtually on November 25.
It's no secret Canada's artificial intelligence sector is fueling innovation, job creation and private sector investment. According to a report based on data from Ottawa's Global Advantage Consulting Group, the AI industry has generated over 50,000 jobs and attracted nearly $3 billion in investment since 2010. Canada has also produced the most AI patents per million people among G7 nations and China.
The showcase on November 25 will give attendees the opportunity to be immersed in the forefront of AI developments. Discussions will focus on the development and advancement of AI research in BC, and its multi-disciplinary applications in health and manufacturing.
Co-hosted by UBC's Centre for Artificial Intelligence Decision-making and Action (CAIDA) and the Biomedical Imaging and AI cluster (BMI-AI),the showcase will allow participants to connect with BC's AI thought leaders, researchers, and industry experts.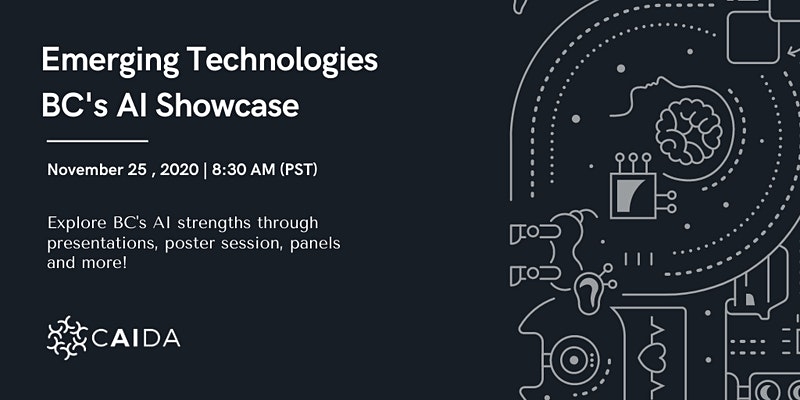 The day runs from 8:30 a.m. – 1:00 p.m. and will include presentations, a panel discussion, poster session for AI graduate students and opportunity to network with the local AI community. Esteemed AI experts Dr. Frank Wood and Dr. Mark Schmidt from UBC's Computer Science Department will be giving presentations.
Student Poster Session
To learn more, register to attend the event, and learn the qualifications for submitting an abstract for the Student Poster Session, visit CAIDA's eventbrite registration page.