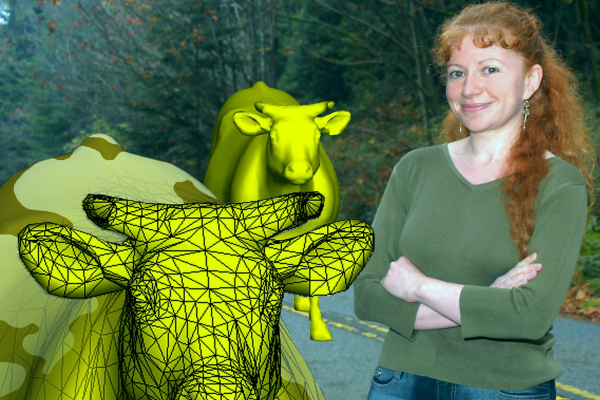 Alla Sheffer inducted into ACM SIGGRAPH Academy
UBC Computer Science Professor Alla Sheffer has been chosen as an inductee for the ACM SIGGRAPH Academy, as part of the 2020 class. The honorary group of individuals are chosen for their exceptional contributions to the field of computer graphics. These are principal leaders of the field, whose efforts have shaped the disciplines and/or industry, and led the research and/or innovation in computer graphics and interactive techniques.
Alla's research in geometry processing and interactive geometric modeling spans across traditional computer graphics settings and multiple other application domains. Her work has been recognized in many different ways over the years:
Prof. Sheffer outlines the applications of her research, "My work addresses fundamental geometry processing problems such as parameterization and remeshing, which are central to computer graphics and computer aided engineering. My recent research applies insights about human perception and communication of shapes to algorithmic shape processing. These algorithms accelerate and simplify the creation of virtual models across multiple domains, including fashion and product design."
Sheffer's recent work addresses geometric challenges that arise in advanced digital fabrication settings. She is also exploring the use of virtual and augmented reality interfaces for shape communication.


In addition to being thrilled and humbled about her recent induction into the ACM SIGGRAPH Academy, Alla admits an ongoing affection for meshed cows. Her publications help explain why.