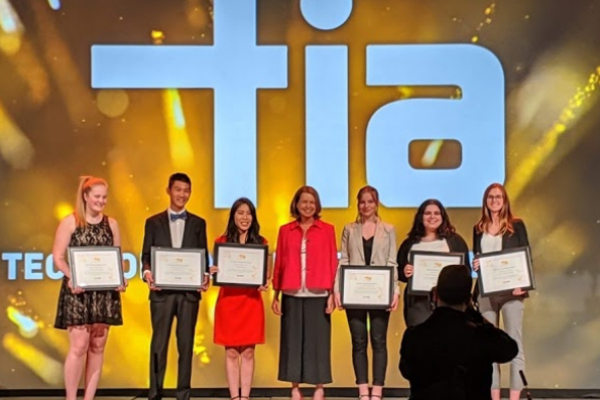 Three UBC Students Honoured With 2019 BC Tech Scholarship
Congratulations go out to three UBC undergraduate students, Daphne Liu, Beriwan Ravandi, and Jobina Tamminga for each receiving a 2019 BC Tech Scholarship at the Technology Impact Awards gala on June 27th, 2019. The students were also invited to meet Prime Minister Justin Trudeau. BC Tech Scholarships award students for their involvement in the tech community, academics, and student leadership.
Daphne Liu is a 4th year Computer Science student, founder and co-president of UBC Women in CS, and the co-founder of CS Coffee Chat:  a mentorship program that matches lower-year to upper-year students. Daphne also received the 2019 Irving K. Barber Women in Technology Scholarship and the 2019 VISIER Service Award for Women in Computer Science. She spoke at the 2019 Microsoft Higher Ed Summit, and taught Android at 2019 Hack the 6ix. Daphne has previously interned with Hootsuite and Shopify, and will be interning at Yelp and Lyft in 2020.  
In addition to the BC Tech Scholarship, Beriwan Ravandi was also awarded the Bill Tam Scholarship by the BC Tech Association. She was also recently awarded Google's Women Techmakers Scholarship and another scholarship from Microsoft. Beriwan is a 4th year CPSC student at UBC. Most recently, she interned on Tableau's NLP team in Palo Alto. She will also be co-facilitating CPEN 400S in term 2, where this seminar will be studying the impact of technology in developing countries.
Jobina Tamminga is finishing her last semester (5th year) in a combined major in computer science and biology. In addition to the BC Tech Scholarship, Jobina has also been awarded the 2019 Irving K. Barber Indigenous Scholarship, the 2018 Irving K. Barber Aboriginal Women in Technology Scholarship, and the Trek Excellence Scholarship for Continuing Indigenous Students of Canada, two years in a row.
Jobina is an executive member in the American Indian Science and Engineering Society (AISES) UBC chapter and has completed software developer internships in the Netherlands (Agrifac Machinery BV) and in the Yukon (Make IT Solutions), consequently securing a full-time position at Make IT Solutions after she graduates.
These scholarships are not only well-deserved, but demonstrate an increasing presence for women excelling in tech.