"Where Else Can I Go and What Else Can I Accomplish While I'm Here?"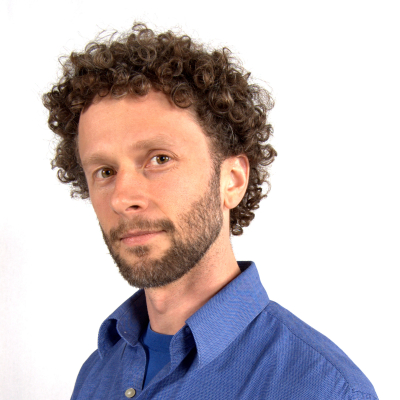 In reading through Paul Kry's CV of research, teaching, and professional accomplishments, one has the sense of being in the presence of a person absolutely born to academics. But despite his long-standing interests in computing and computer science, Paul laughs at the suggestion that it was a foregone conclusion that, for example, once he'd finished his masters in CS, he'd continue for a Ph.D. "No, no!" he says with an easy laugh. "I knew I was interested and that I wanted to learn more, but you never really know where these things are going to lead."
Not knowing where things are going to lead clearly has been a winning strategy for Paul, who has an impressive CV to show for it: a B.Math. in Computer Science with Electrical Engineering Electives (University of Waterloo, 1997), an M.Sc. in Computer Science (UBC, 2000), a Ph.D. in Computer Science (UBC, 2005), two post-doctoral fellowships (INRIA Rhône-Alpes, Montbonnot, France, 2006 and Université René Descartes, Paris, 2008), and an assistant professorship at McGill University (January 2008 to the present). With a good deal of humility, Paul speaks with appreciation for how accommodating and helpful others have been in his career, but it's clear that with his keen intellect and passion for learning he's been the driving force in seeking out a diverse array of opportunities for himself.
As with many stories of passion, his began humbly enough, with interests in computer animation and computer graphics that predated high school. He laughs and scans his office shelf for the first book he ever bought on a CS topic, Computer Animation on the Apple IIe, which he used to write some of his first programs. Applying to Waterloo in undergraduate programs both in computer science and physics, Paul ultimately decided to follow CS. There he took his first graphics course, and when he did, he was off and running.
Waterloo happens to have an excellent work co-op program and Paul decided to take full advantage of it, noting that "working every four months or so helped pay the tuition and the rent." In addition to helping him foot his Waterloo bills, his co-op placements afforded him a valuable entrée into the world of research. In his first placement he worked as a Research Programmer for the Communications Research Centre in Ottawa, where he analyzed various character recognition techniques and modified character recognition software for television text. "This was an interesting time in computing," Paul recalls. "At the CRC they were putting CBC radio shows up on the web like an early form of internet radio, and they were working on natural conversations with video avatars. These were the days when Yahoo was loading as a single page. This was the birth of the world wide web and things were changing fast." In the second co-op placement he worked again as a Research Programmer, this time for the Canadian Space Agency in Saint-Hubert, Québec, where he helped create and implement various robotics experiments.
Though he enjoyed his studies at Waterloo, he knew he wanted to experience other locales and with that in mind opted for a one-year exchange abroad. For the first six months he studied at the Université de Technologie de Compiègne, in Compiègne, France and then did a six-month work term at NORTEL in Paris.
Paul believes that entering the world of "real work," whether via a co-op program or exchange, is valuable for every student. First, such programs offer a crash course in environments far from the university and as such can broaden a student's interests while simultaneously focusing them. As an example, while working for the Canadian Space Agency, Paul did his first work in haptics, the science of allowing users to interface with technology via touch, which then became an ongoing research interest. Second, taking time away from the university after graduating from an undergrad program and before grad school gives a student the chance to pull together NSERC and other applications outside of the crush of year-end projects and exams.
Back in Waterloo, Paul reconnected with his professors for letters of grad school recommendation, reflecting on how much he'd enjoyed the graphics class he'd taken and considering how that interest might broaden in the future. "I'd seen these other students taking grad courses at Waterloo and I thought, 'I want do more of this. I want to go back.' I wasn't exactly sure in what, but I had this idea of working on splines, polynomials, and all these little tricks you can do with them." As he mulled over his post-grad options, he did a year-long stint at Televitesse (now March Networks), where he developed video compression and text summarization tools and a custom web server that provided an overview of t.v. news.
Paul then applied to the UBC Master's program in CS and arrived in the fall of 1998. There he undertook a fruitful period of research with Professor Dinesh K. Pai (now Tier 1 Canada Research Chair and Director of the Sensorimotor Systems Laboratory), working on the simulation of contact between subdivision surfaces. Obtaining his M.Sc. from UBC in 2000, Paul did decide to go for the Ph.D. "I appreciated having the chance to get my feet wet with the Master's before diving in for the whole thing." Further exploring the field led to research in robotics and in particular the nature of how robotic hands grasp and hold objects. The research became so compelling that he followed Professor Pai to Rutgers in 2002 and completed his research there. Once again, having the opportunity to travel and mix it up with other academics proved stimulating. "Princeton was just down the road, NYU and Columbia just over in Manhattan. There was an opportunity to hang out with the graphics group at Princeton and go to lunches with invited speakers. I found that there actually are many redeeming qualities to the Garden State!"
Following the completion of his Ph.D., Paul opted to take two post-doctoral fellowships in France. In the first, at INRIA (Institut National de Recherche en Informatique et en Automatique), Paul did work with real-time, physically based surgical models and in the second, at the Laboratoire de Neurobiologie des Rêsaux Sensorimoteurs at the Université René Descartes in Paris, he examined the relationship between the skeletal articulation of vertebral animals and soft tissue deformations. Following the end of the second post-doc in January 2008, Paul became an Assistant Professor in the School of Computer Science at McGill University in Montreal.
Looking back on his time as both a Master's and Ph.D. student at UBC, Paul is struck by the wealth of learning opportunities the department affords. He speaks of the grad classes with a good deal of affection, as each offered novel insights into often truly difficult problems. Remembering tough courses in computational geometry, computational robotics, and advanced graphics, Paul notes that the UBC grad classes "were very well organized and easy to follow." He also recalls fondly a theoretical course on computability, which he describes as "not terribly easy, it occasionally had open problems on the assignments that nobody solved. It was one of the hardest courses I've taken, but there was a kind of joy in seeing the problems unfold. In the same way that I enjoyed the challenge of some of the pure math courses I took as an undergrad, it's some very abstract lateral thinking that's involved in solving these things and it's actually really satisfying when you see these graceful answers, the proofs that can be so simple and yet so elusive."
Another appealing feature of the UBC program is the physical setup of the department's research labs. "One thing in terms of the way research is done at UBC, which is not necessarily the same at all schools, and which I certainly appreciated being a part of, was these larger shared labs, the fact that there was this LCI lab (Lab for Computational Intelligence) and the IMAGER lab, the Beta Lab. It's assembling all these professors together that have these common interests and students who have common interests and projects that are quite diverse but which may overlap in interesting ways. The fact that there are these opportunities to discuss and share and see things that are works in progress—as well as the less formal lab meetings—this is all really nice to have." (For more information on the CS labs, please see https://www.cs.ubc.ca/cs-research.)
Paul also enjoyed his relationship with Professor Pai, warmly recalling him as "an excellent mentor and very encouraging and well-connected." On this last point, Paul remembers his first brush with other academics, which came at a SIGGRAPH (Special Interest Group for Computer Graphics) conference. "At the academic level, I can remember that the first 'wow moment' was going to my first conference. Dinesh invited me to go down to SIGGRAPH. I was the 'equipment lackey,'" he says with a broad smile. "SIGGRAPH as a conference is a kind of flashy thing to begin with and as a new grad student, this was a real eye-opener. It was like, 'wow, look at all the impressive academic work going on as well as this huge industry of people working on these problems.' It was very interesting to see how this stuff all finishes up in terms of how research is sent out into the world."
Life in the department wasn't all work and no play, and Paul remembers many "Friday afternoon pilgrimages to Koerner's Pub" with various department buddies, including friends he made in a group house with five other CS students. One grad student took it upon himself to become the "Beer Czar," and to encourage others he wrote a weekly poem extolling the virtues of beer. "Good times!" cracks Paul. In addition, he believes the beauty of Vancouver can't be overstated. He'd been to the city before, as both his parents were raised here, but returning as a student heightened his appreciation for all it offers, from spectacular areas like Spanish Banks for biking and taking in the view, to the nearby north shore mountains for climbing, snowboarding, and skiing. In what's a pretty common refrain for a busy grad student, he notes that "I took it for granted but didn't take advantage enough of it!"
All in all, Paul feels his time in the UBC graduate CS program was time well spent. "There's an excellent faculty at UBC. The shared lab philosophy is very good. This philosophy, which is shared by other big departments at top schools, is of great benefit to the students to mix it up and share. A lot of great people come through the doors of the department through the Distinguished Lecture Series. In all, it's an excellent environment that's useful for producing top-tier research."