Marrying Theory with Practice to Build Entrepreneurial Success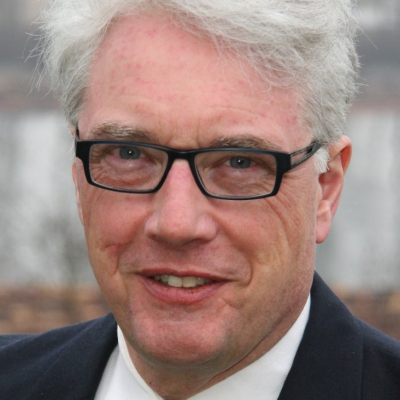 "Why do things in life if you're not going to engage?" asks David Greer rhetorically, and if you talk for more than five minutes with him you'll realize there are definitions to the verb to engage that are as yet unexplored by Merriam-Webster. For David, a 1980 UBC grad, computer scientist, entrepreneur and married father of three teenagers, engagement seems synonymous with hyper-intelligent professional focus, ferocious hard work, and an exuberant delight in life. With a smile that easily morphs into a booming laugh, he is a picture of a man happy with his life decisions and where they have brought him. To talk with him for an hour is to travel thousands of miles and through many interesting changes in the last thirty years in computing.
David's memories of computers date to the early 1970s when he visited government offices in his hometown of Edmonton, AB; there he witnessed "all the spinning tape drives of these massive computer systems." At the same time he learned octal (base 8) arithmetic from a math teacher. His curiosity piqued, he took a high school data processing course and, by getting to know older students with accounts at the University of Alberta, got introduced to the Michigan Terminal System (MTS), a completely integrated computing platform developed by a university consortium that included UBC. On this system, he wrote his first-ever computer program, one that would convert Celsius temperatures to Fahrenheit for his father, who owned and operated a wholesale sanitary supply business.
From that youthful foray into marrying business with computers, David's passion for developing computer systems to optimize business performance and practices was born. Yet despite having that knowledge, his route from first-year student at the University of Alberta to successful computer scientist-turned-businessman was anything but straightforward. Tiring of school in Alberta, David left university and moved to Vancouver, where he spent 18 months running a sporting goods warehouse and taking night school courses. Then he entered UBC's computer science program mainly as a second-year student, taking CS courses and electives in commerce and information management.
In his second semester at UBC, David was fortunate to take a class with Hugh Dempster, the "no nonsense kind of guy" after whom the newest CS building is named. Hugh helped David understand the fundamental tenets of programming theory. At the same time David was hired to help rewrite the programming code for Premier Cable Systems, a company using the leading edge HP 3000 proprietary business platform. Going to school by day and programming at night "cemented my core dual personality in CS at UBC…by day learning the theory and by night learning the practice." By his third year at UBC, David had begun to work with a consultant to Premier who had founded the software company Robelle. As with his programming class, this work experience informed an operating systems class he was taking, while simultaneously the o/s theory helped him to better understand the HP 3000. In this way, David was an early and unofficial pioneer of the co-op program method (which began formally in the UBC Faculty of Science in 1980), where classroom learning is augmented by real world experience.
Graduating from CS in 1980, David began to work as a Robelle consultant to a variety of corporations, including MacMillan Bloedel (now part of Weyerhauser) and the Bentall Group. In this role he programmed, debugged, and tested in the field for four days per week as a consultant, then worked in-house at Robelle one day developing documentation and an online help system. One of his areas of expertise began to centre on data retrieval. As businesses developed larger databases, they found their systems too slow to handle the data. To handle these slowdowns, the Robelle team relied on David's UBC compiler design skills to develop Suprtool, a data extraction and retrieval tool that vastly speeds retrieval time from data stores.  From 1982 to 2001, when he left the company, David was the chief architect of that product and its many iterations.
Becoming ever more indispensable in all aspects of the company, David began to interweave development and sales with his technical functions. He also began to travel for the company, and over the years wrote three books, over thirty papers and gave more than 100 presentations on best management practices to managers and technical staff in companies worldwide. By the time he retired from Robelle in 2001, the company had included in its corporate portfolio the likes of 3M, Pepsi, Exxon, and Boeing, with some 15% of all Fortune 500 companies among Robelle's customers.
David believes that excellent communication skills have been indispensable to his work in the field and he strongly advises students contemplating a career in computer science not to neglect developing these skills. "Whether you're going to follow the computer science path, and considering moving on to be a designer, or perhaps a software architect, whatever happens in those roles, you will have to communicate. And the more you move up the food chain, the more important your communication skills become. You've got to be capable of communicating to the business people what it is you're doing and why it matters to the organization. Written communication is still the 'core.' Whether you're producing a website that's going to try and sell something, it's still the content and the writing that are important. I believe it's a critical fundamental skill."
Another concept he promotes is that of students gaining real world experience via the co-op program. Having built his own "deep and broad" co-op experience, David views this work outside the classroom as fundamental to the whole learning experience. "The co-op program takes the theory and shows you real application. It starts introducing you to the real problems. A lot of problems don't revolve around the code." He elaborates by noting that many students are pleased when their code works in the lab, and says, "Good, that's great, I'm really proud of you! But that's step one in a very complicated long set of steps. You don't have a product when it just runs in the lab. That's something that most young entrepreneurs/engineers/computer scientist students don't get. The product has…a lot of pieces to it. One is you have to be able to install it on a customer's site. Two is you have to be able debug it on a customer's site without all of your wonderful development tools. Out in the field is when the real problems start to show up."
Having worked so extensively with businesses throughout his career, David was in a good position after retiring from Robelle to use his talents to help others. Through his consulting business David Greer Technology Solutions he now works with businesspeople in all aspects of entrepreneurship, tackling issues in sales and new business development, industry relationship management, and product performance. He also is vice president of sales and marketing for eOptimize, a firm that supplies software solutions for firms in need of making complex scheduling decisions. Through his work as an early stage investor, David analyzes businesses in need of capital and selectively invests in these firms. He and his wife, Karalee, have also worked closely with the United Way of Vancouver and they have endowed a scholarship in the UBC CS department.  They also work closely with the B.C. Technology Social Venture Partners, a group of business leaders in Vancouver that provides philanthropic, business, and technical support for a variety of nonprofits in the region.
Not surprisingly, David's energy levels are high for a myriad of personal and family pursuits. An active athlete since childhood, he works out five days per week and pursues a passion for photography. In 2001, he and his family boarded a sailboat commissioned in the south of France and sailed 10,000 kilometres in the Mediterranean basin for 24 months, during which time the adults home-schooled the children. He remembers this as "the adventure of a lifetime" that created memories of everything from midnight storms and navigational mishaps to the challenges of living in and alongside non-English-speaking countries for two years. Today those happy memories seem part of the fabric of the Greer household, in which high levels of energy are on display. "It's noisy! It's active! It's social!" David says with delight. "Everyone tackles the things in their lives with enthusiasm and a great deal of energy," and adds with another booming laugh, "What other way is there to be?"