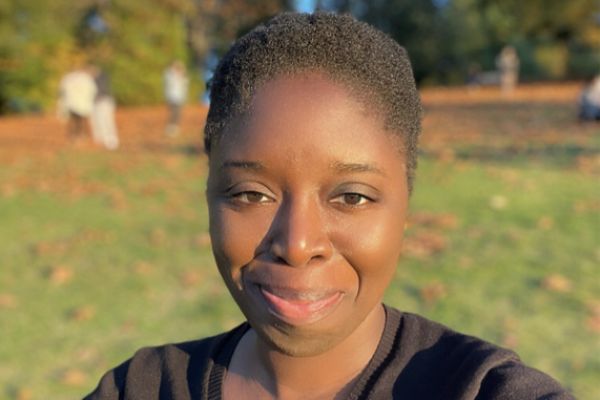 Killam for Kemi: Dr. Ola Wins Teaching Award
Congratulations to Assistant Professor of Teaching Dr. Oluwakemi (Kemi) Ola for receiving the 2021-2022 UBC Killam Teaching Prize.  
The teaching prize is awarded annually to UBC faculty in recognition of excellence in teaching.  
Kemi joined UBC Computer Science in 2018. In the short span of four years, Kemi has infused her innovative and evidence-based teaching practices into a wide range of courses, and inspired hundreds of students to consider majoring in Computer Science.  
By using creative teaching methods informed by her philosophy of Communication, Motivation, Community, and Exploration, Kemi cultivated safe learning communities where students are motivated and feel comfortable "exploring, taking chances, making mistakes, and sometimes even failing because productive failure is part of learning."  Through the use of innovative practices such as socio-emotional activities, personalized 'nudging' messages, and metaphors, she strives to provide students with agency, direction, and boundaries to be lifelong learners. 
Dr. Ola is a model of a lifelong learner herself, as well as a true leader in the field of Computer Science education. She regularly improves her teaching practices through collecting student feedback, reflecting, and staying abreast of the latest education research. As a leader, Kemi's impact goes far beyond the students she teaches. Through organizing conferences and workshops locally, nationally, and internationally, she actively creates space for Computer Science educators from around the world to connect, share teaching practices, and mentor each other.
She is highly appreciated by students and colleagues alike for her engaging, energetic teaching style, her clarity in explaining concepts, and the care she puts into course organization and workload distribution. In the words of her nominator:
"Kemi's office was a busy, happy, student-centered place. She either had office hours ALL THE TIME, or she never sent a student away. I suspect the latter. I feel very lucky to have her as a colleague, and I can't think of anyone else more deserving of the Killam award for excellent teaching."