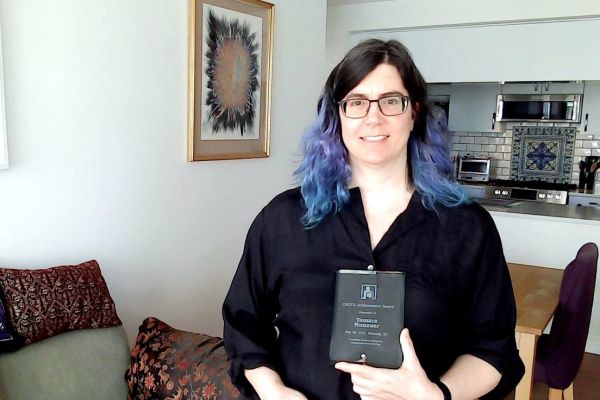 Bridging the gap: Dr. Tamara Munzner wins an Achievement Award in Visualization/HCI
When a renowned professor who is expert in her field of research wins a significant achievement award, one could presume she's had a lifelong love for that area.
But Dr. Tamara Munzner had a less predictable route. Her current work includes deep dives into evaluation methodology by way of human-computer interaction (HCI). However, she began her career doing visualization and computer graphics as technical staff at a research group of geometers and topologists, and thought that she would move into pure computer graphics during her PhD.
"I originally thought that visualization was a useful enough folly, but that I would eventually join the grown-ups to focus on computer graphics," Tamara said.  After finishing a side project in visualization as a PhD student at Stanford, Tamara then delved into another side project in visualization. And then another.
Her path was unfolding. "I was starting to realize these were not side projects anymore. This was what I needed to do," she said.
Now a computer science professor at UBC and renowned expert in visualization, Tamara has just been presented with the 2021 CHCCS/SCDHM Achievement Award of the Canadian Human-Computer Communications Society.
The award acknowledges her significant contributions and in particular, Tamara's ability to bridge the gap between HCI and graphics.  
The design of visualization
Her widely referenced book,Visualization Analysis and Design, provides a systematic, comprehensive framework for thinking about visualization in terms of principles and design choices.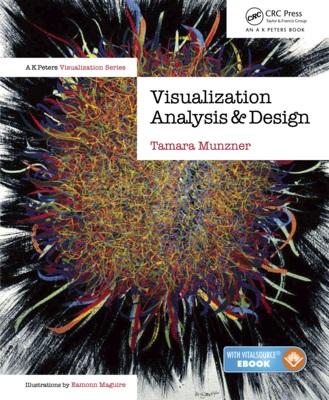 That book focuses on synthesizing ideas into foundational methods. "My book, and even several recent papers I wrote, are all about the process of visualization itself, more that about any one particular system or algorithm."
Tamara has also pioneered the development of methods for problem-driven research, with a high-impact paper on Design Study Methodology that reflects her work within a broad range of application domains that include genomics, evolutionary biology, fisheries management, web log analysis, e-commerce, and journalism.
One of Dr. Munzner's papers, Nested Model for Visualization Design and Validation, really struck a chord with the visualization community. It earned the InfoVis 10-year Test of Time award in 2019 and has been cited over 800 times in the past dozen years. In it, Tamara presents a framework to guide the decision or analysis process in visualization. It splits visualization design into four distinct steps with evaluation methodologies at each level. They include: translate the way that different application domains talk about their tasks and data into vocabulary that is not specific to particular domains; abstraction of operations and data types based on why the user is looking at the data; design visual encoding and interactivity techniques; and finally, develop or use algorithms to execute the techniques efficiently.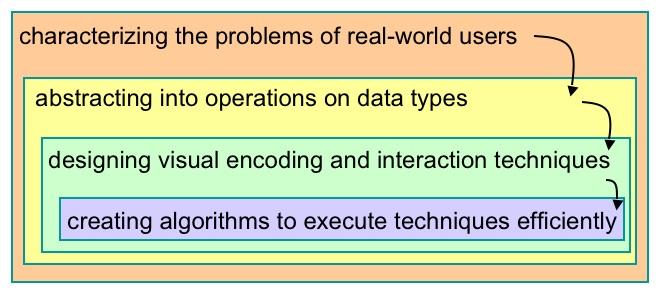 "It's not that these steps have never been used, but our goal was to make them more formal and explicit," Tamara explained.  "The model can be used either to analyze existing systems or papers, or to guide the design process itself."
Beyond this paper, Tamara has technique-driven interests that include graph drawing and dimensionality reduction, with an emphasis on scalable algorithms. Her evaluation interests include both controlled experiments in a laboratory setting and qualitative studies in the field.
She's also been a co-creator of two animations that brought concepts from geometric topology to general audiences, and was co-designer of the interactive 3D visualization system Geomview, which directly supported non-Euclidean geometries.
Canada is gaining presence in visualization
"The visualization presence in Canada has been growing but it's still small compared to HCI and graphics. I think this award is not only a statement about my work, but is also testament to how visualization is becoming a force in Canada. "It feels great to win this award. It is truly an honour and a delight," said Tamara.
As for Tamara's outlook on the future and for graduates coming out of computer science in this field of research, "I think the future is very bright. I have more people in industry asking me if I have great graduates they may hire, than I do available students. The demand far outstrips the supply."
Tamara's students from her InfoVis group at UBC Computer Science have gone on to work at companies like Google and Electronic Arts, and industrial research labs like Tableau Research. Others have taken the academic route as professors in places like Utah and Zurich. There are just so many opportunities in visualization.
A well-deserved award for an accomplished researcher
Tamara has also published over 80 papers, including 21 at IEEE InfoVis, and others at many venues. Her h-index is 49, her work has amassed over 10,000 citations, and she has given over 200 talks.
She has consulted for, or collaborated with many companies including Agilent, AT&T Labs, Google, Microsoft, Mobify, Silicon Graphics, Tableau, Uber, and early-stage start ups. She serves on the advisory boards for the Data Visualization Society and Data Literacy LLC and is the co-editor of the AK Peters Visualization Series with CRC Press / Routledge.