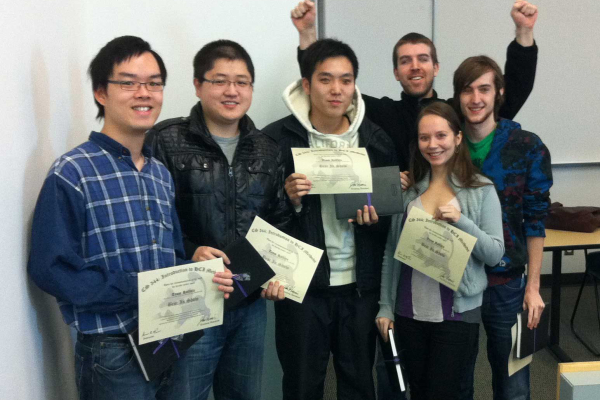 Want to Buy Groceries with Your Smartphone Instead of Waiting in Line?
A swanky smartphone purchase app won "Best of Show" in the 2011 CS Human-Computer Interaction Design Competition, in which 17 grad and undergrad teams took part.
In CPSC 344/544  (Introduction to User Interface Design), student teams explore their own experiences to identify human activities that are in drastic need of better technological support, then iteratively design and evaluate new - sometimes radically different - interface systems that will improve peoples' lives in some way. This intense, hands-on course culminates with a design competition on the last night of classes, judged by a guest jury of practicing industry and academic HCI experts.
This year's December 2 competition featured 17 presenting projects (11 undergraduate and 6 graduate student teams, out of a class of 69 students), targeted user headaches that included figuring out what kind of clothes to wear all week, finding things in stores, managing your e-wallet, and finding and navigating the urban biking route you want to take today.
Awards were sponsored by RIM, and adjudicated by a design jury of Trevor Allen (senior interaction designer at TELUS), Jeremy Gordon (project manager at UBC IT), and Oliver Schneider (UBC CS grad student and former 344/544 TA).
The award-winning teams were:
Best in Show: Handheld Grocery Store Checkout
   Alexander Boyd, Ioana Bercea, Sung-Min Simon Park, Keane Lim, Hong Hao Zhao
"Germane Engineering" Award: Retail StoreItem Finder
   Michael  Silverwood, Ramyar Sigarchy, Willie Wong, Johnny Lee, Saeed Akhtari
"Best Dressed" Award (best presentation): Outfit Planner
   Shauna Gammon, Brett Stover, Caithlin Horton, Jannus Meyburg
Honorable Mention:
Buzz Lightyear Award: To Infinity and Beyond!!!"
  Anca Radu, Wei Sun, Junhao Shi
"iCandy" Award
   Morgan McLean, Johnny Chien, Leemor Yuravlivker, Yeung Peter Cheung, Kevin Chi-Tsun Lau
"Comeback Kids" for Most Improved
  Dennis Tsang, Jerome Li, Anthony Chow, Beom-Soo Kim, Supriyono Supriyono
"The Balboas" Award for Outstanding Determination
  Christopher Seto, Curtis Mak, Salvador Sepulveda, Charles Krzysik
More pictures can be found here.