Ghislaine Chan (2000 Grad)
As Vice President of Software Engineering at Broadridge Financial, UBC CS Alumna Ghislaine Chan's days are very full. And that seems to be right up her alley. Ghislaine has long been passionate about contributing in meaningful ways, which is evident with a glance at her robust education and work history.
Since she graduated from UBC Computer Science (CS) in 2000, Ghislaine has been steadily building her career at Broadridge Financial, a global Fintech leader. Her success story is not atypical for UBC Computer Science alumni. Most land well.
"I've always loved science and math," said Ghislaine. "Initially, I wanted to be a doctor." But after taking first year science courses at UBC, she had a change of heart and direction, going on to pursue computer science.
Giving back: helping women in CS achieve their dreams
After settling into her career, Ghislaine wanted a way to give back and to help others in computer science at UBC, particularly women. "I recall feeling a little isolated and lonely as one of the few women in the field," she said. Ghislaine decided to get involved in the department's tri-mentoring program, where experienced industry and UBC faculty professionals come together with fellow students to provide mentoring and support. Ghislaine credits CS staff member Michele Ng with nurturing opportunities for students to connect with other like-minded individuals. "The community she's created through programs like tri-mentoring is so welcoming, it makes me want to do more and volunteer more."
"When you see a young woman progress and grow through one of these programs, it's truly gratifying," Ghislaine said. "Sometimes all they need is someone to believe in them and provide confidence and reinforcement in order to recognize how capable and talented they are."
In her various roles at Broadridge, Ghislaine has hired many CS graduates and has observed the differences between their skills and assets. "Women in computer science are just as capable and talented as their male counterparts, but often they don't necessarily recognize or believe in that. They lack the confidence comparatively," she explained. "And yet, the women ask very thoughtful questions, are very aware of client needs and have the soft skills that bring the team together. They just need reminding that everyone has something important to contribute."
Providing financial help
Ghislaine's affiliation with UBC has also carried forth in another significant way that is helping female students financially. "We created the BROADRIDGE Financial Solutions Award for Women in Computer Science which goes to a female undergraduate student graduating from UBC CS" she said. The qualifications for awardees are a mirror of some of Ghislaine's qualities: demonstrating excellence in fields like: community service, student leadership, and volunteerism.
She also designed and created a workshop targeted for parents to help support and encourage their daughters to explore technology as a viable career. It's an offshoot of the UBC Computer Science GIRLsmarts4tech group. Ghislaine was inspired after reading research Google had published about 'what incents women to pursue tech as a career.' They discovered the encouragement from parents was a major contributing factor. "Parents can really inspire their daughters to pursue tech and related jobs that are in such demand, if they have the right skills," explained Ghislaine.
How social responsibility pays off for everyone
Her passion for developing programs and assisting women in computer science aligns well with the mandate at Broadridge. "In the past five years, we've been very focused on corporate social responsibility," said Ghislaine. "Through these programs with UBC, our company is now viewed as quite an exemplary business in Vancouver, in terms of doing good within our community." As a result, Ghislaine has attracted the attention of leaders right across the S&P 500 company and was invited to be one of 10 associates flown to NYC to ring the opening bell of the New York Stock Exchange for Broadridge's 10-year anniversary celebration.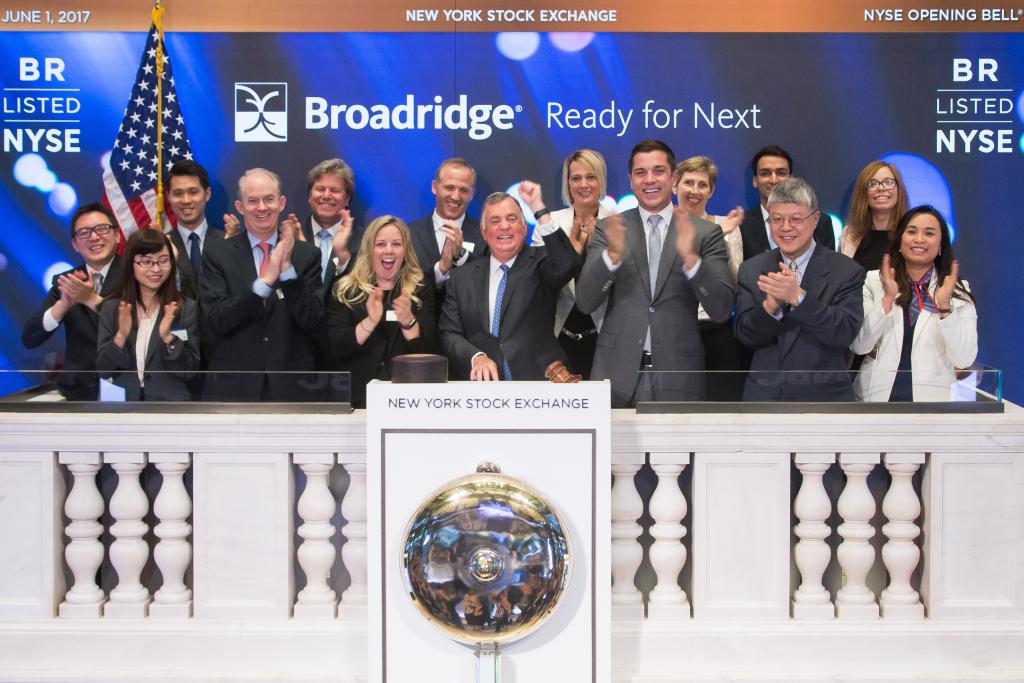 In her new role over the past six months, Ghislaine's tech background has helped her tremendously. "I'm analyzing the various wealth management software applications across Broadridge's portfolio to assess opportunities to simplify, consolidate, and modernize our collective capabilities."
Her impressive leadership skills, values and action have not only helped many women in their pursuit of learning computer science at UBC, but she's synonymously helped her own career and the company she works for.
When Ghislaine was a CS undergrad, she couldn't have imagined the success and sense of purpose she has developed today. And now, she hopes the women currently enrolled at UBC CS reach out and embrace all of the opportunities the department can provide. "Today's generation of female computer science graduates can create a vision of their future, and attain it, whatever that looks like," Ghislaine said and had a few more words of inspiration:  "Seek the programs and support you need. Ask. Get involved. You are just as capable as anyone else."