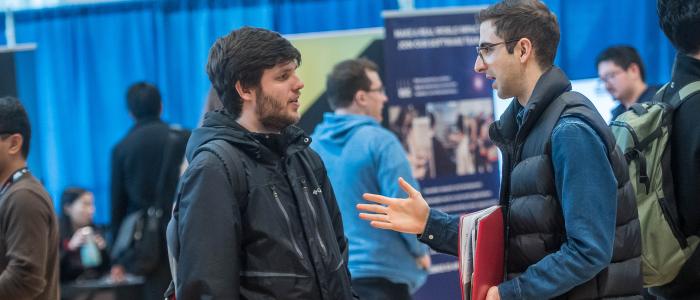 Careers in Computer Science
Why undertake a career in computer science? Prospects, salary, and job satisfaction!
Jobs that require a background in computer science can be found in every sector of the economy, are among the most highly paid in any field, and offer significant personal and professional rewards.
Job Prospects
Computers and computer systems are everywhere. Their importance in society is growing, and the need for exceptional talent to make them work exists as never before.
Despite the dot.com bust and the outsourcing of certain CS jobs, the future for CS grads in North America is excellent!  Computer science related applications exist in virtually every field: from aeronautics and oceanography to medicine and law enforcement, from navigation and fashion design to entertainment and environmental protection. The CS department of the University of Colorado at Boulder lists a hundred or so subfields in which computer science is prominent, noting that these are but a few of the areas in which computers play a role.
Salary
Many students with a degree in Computer Science eventually end up in highly-paid managerial positions, where they can shape the future of companies and express their creativity. A recent TechCrunch article gives you a better sense of their earning power.
Computer science jobs pay among the highest salaries out there.  A recent survey of CS grads found that after two years in the workforce, UBC CS grads earned 38% more than all university graduates at the bachelor's level and 44% more than college graduates in similar educational programs. Computer science is a career that will reward you financially, and a CS degree from UBC will amply reward you!
Job Satisfaction
There may be jobs out there and they may pay well, but are they satisfying? Most computer science grads think so. According to a recent study by jobfutures.ca, most CS grads feel very positive about their career choices. When asked "Does your work directly match your training?", 69% of respondents said that it did. In fact, 86% said they'd make the same educational choice again, and a full 90% said they were satisfied with their work.
Graduates from UBC feel equally strongly about their CS choice. In a 2007 survey of students who graduated in 2002, 85% of UBC CS graduates said they would take the same program again, the highest number of all disciplines.
87% of respondents were employed
75% were employed in jobs that were either somewhat or very related to their program of study
82% of respondents were satisfied or very satisfied with their program
An American survey graded jobs on stress level, flexibility in work environment and hours, creativity, and ease of entry and advancement in the field, in addition to job growth and pay. Software Engineering was rated as the #1 job, with IT Analyst also making the top 10 list.
Computer science job prospects are real, they pay very well, and they are satisfying. A CS degree from UBC puts all of this within your fingertips. One of the best career moves you can make is to come and check us out!