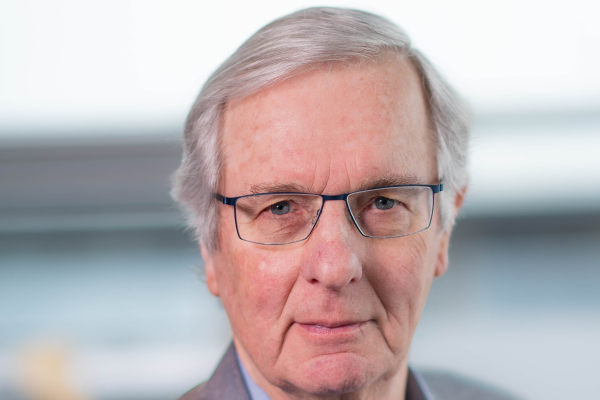 Dr. Alan Mackworth recognized for his landmark contributions to AI
UBC Computer Science Professor Emeritus Dr. Alan Mackworth has been recognized for his outstanding contributions to the field of computer science by winning the CS/CAN Lifetime Achievement Award. 
This award is a significant acknowledgement of Dr. Mackworth's accomplishments and exemplary community and professional involvement over his career.
Dr. Mackworth was educated at the University of Toronto (BASc), Harvard University (AM) and the University of Sussex (DPhil), before joining UBC Computer Science as an Assistant Professor in 1974. Today, he is an internationally renowned researcher in Artificial Intelligence (AI), who has made landmark contributions to the field. His work has shaped the foundations of constraint satisfaction, robotics, and beyond. He has been an influential leader in AI societies, both nationally and internationally, advocating for policies that guide the use of AI to benefit society.
In addition to his research contributions, Dr. Mackworth has been an educational leader, initiating the development of the AI and Cognitive Systems programs at UBC, and co-authoring textbooks on AI. 
Dr. Mackworth's pioneering research on constraint-based knowledge representations helped establish the field of constraint programming. He subsequently showed how constraint-based programming could advance methods for scheduling tools, hybrid systems, control theory, and robotics. His ideas are embedded in programming languages, and used for scheduling airline flights, truck deliveries and more. In 1993, two of Alan's papers on constraint satisfaction were honoured by the premier journal, Artificial Intelligence, as being among the 50 most highly cited papers in its 38-year history.
A big win with Robot Soccer
Dr. Mackworth is also known as the founding father of the famous international robot soccer challenge RoboCup, which now stimulates an enormous range of research in perceptually-guided robotics and attracting new AI talent to the field. He credits building the world's first robot soccer players as one of his biggest accomplishments.
But when it comes to career challenges, Dr. Mackworth also credits robots. "Working with robots is very finicky," he explained. "We would get them working in the lab, but then take them to a conference where there were carpeted floors. They had worked perfectly well on hardwood, but not on carpet. Or, when the surrounding lighting changed, they didn't work because the lighting was different from what they were programmed to respond to. They weren't very robust and agile. I found that challenging."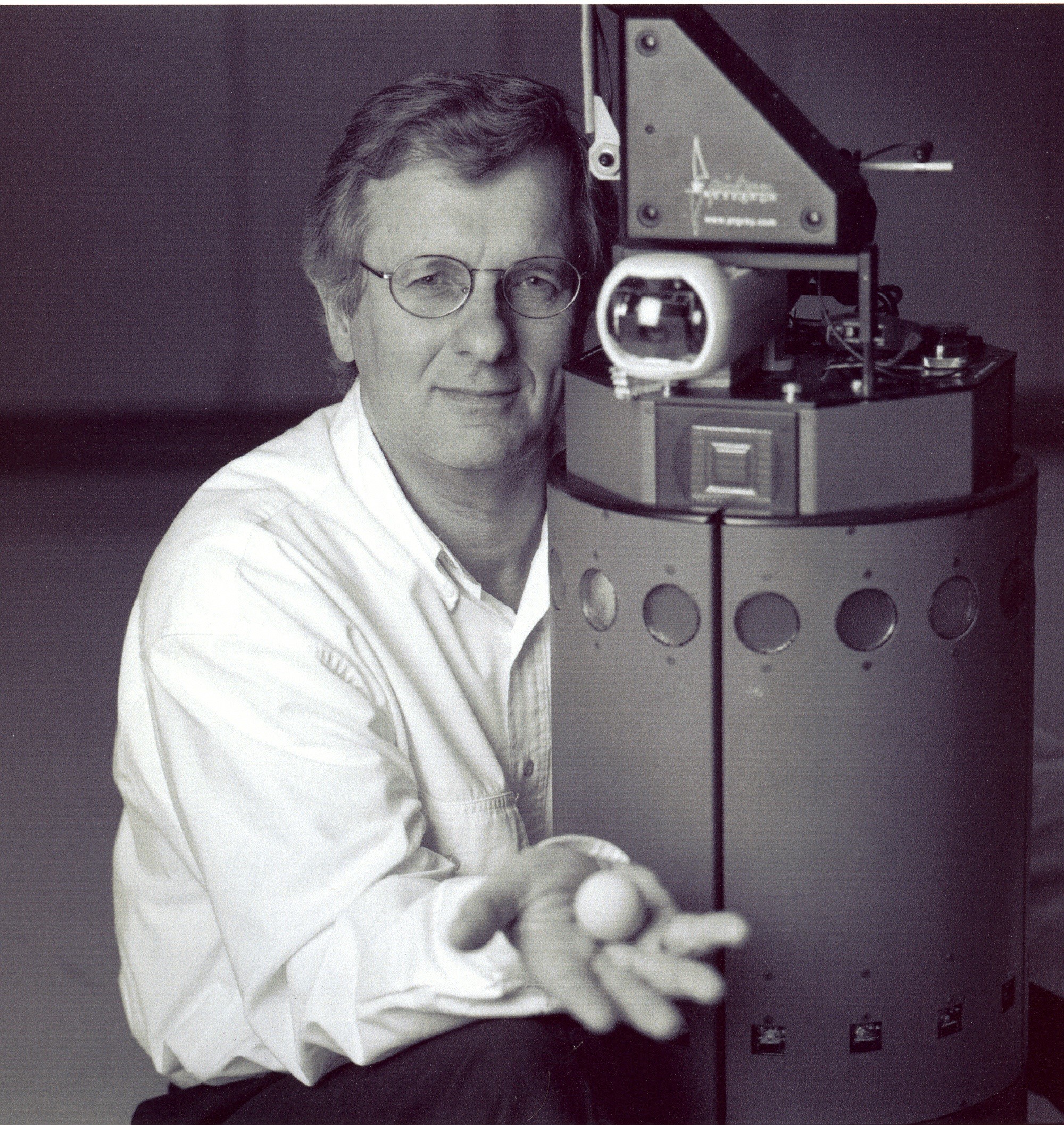 Some of Dr. Mackworth's research led to the highly successful UBC spinoff company, Point Grey Research (now part of FLIR Systems) which designed, manufactured, and sold digital imaging and robot stereo vision systems. He has also worked with researchers across Canada who focus on the application of AI and robotics to the needs of the disabled and the elderly. This work led in part to the formation of Braze Mobility, a successful startup that makes wheelchair sensors that ease navigation.
"It definitely feels good to be recognized after working over 50 years in the field." 




~ Dr. Alan Mackworth, Professor Emeritus
Dr. Mackworth's contribution to the field of computer science is not limited to his research work. He has been an influential leader in AI societies, advocating for policies that guide the use of AI to benefit society. He was the first Canadian president of the Association for the Advancement of Artificial Intelligence (AAAI). He served as the founding Director of the UBC Laboratory for Computational Intelligence and the Centre for AI Decision-making and Action (CAIDA). He is a Fellow of AAAI, CAIAC, the Canadian Institute for Advanced Research and the Royal Society of Canada.
Mackworth feels winning the award is not only rewarding for him, but important for the visibility and recognition of the department in the field of AI. "It definitely feels good to be recognized after working over 50 years in the field," Mackworth said. No stranger to awards, he is also a previous recipient of the CS Faculty Mentoring Award, the CAIAC Lifetime Achievement Award, and the AAAI Distinguished Service Award.
In his retirement, Dr. Mackworth continues to serve on UBC's Emeritus College Council and Finance Committee, while writing the third edition of the textbook: Artificial Intelligence: Foundations of Computational Agents with Dr. David Poole. 
Dr. Alan Mackworth's contribution to the field of computer science has been immense and this award is a small token of his influence. His work will continue to inspire and guide future generations of computer scientists as they navigate and develop the future of AI.
More about Dr. Mackworth and his research