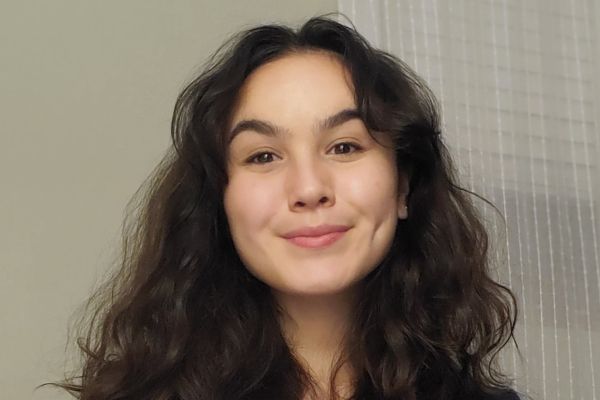 Spotlight on undergrad Alexa Gogoescu: Opening new doors in computer science
Third year UBC computer science student Alexa Gogoescu has never been one to shy away from trying new things. It's exactly why she added philosophy classes to her studies last term, and is now pursuing a double major in the two domains.
Alexa's initial interest in computers came from being around her father in his computer repair shop. She was always poking around with various parts. When it came time for her to apply for post-secondary, she decided to turn her causal hobby interest into her field of choice. Alexa was accepted by UBC, University of Toronto and McGill. But because Vancouver is home, she opted to attend UBC.
Beyond computer science
Beyond her studies, Alexa's curiosity and interest drive her to try new endeavours and as a result, she's had some unique experiences which are enhancing her education. In the past, she has volunteered with the Vancouver Writer's Festival, participated in a four-month quantum machine learning mentorship, and received a scholarship to sing with a local chamber choir. Most recently, she was asked to emcee a portion of an event called 'Games In Action', which was held at UBC.  Bringing together music with gaming in a sort of creative mashup, Games in Action was an energetic and creative collection of performances, attended by hundreds of students. There was even a pop-up arcade hosted by the university's Emerging Media Lab and Heart Projector, that used interactive artwork to express marginalized experiences. They had the UBC ESports team and others playing competitive Tetris.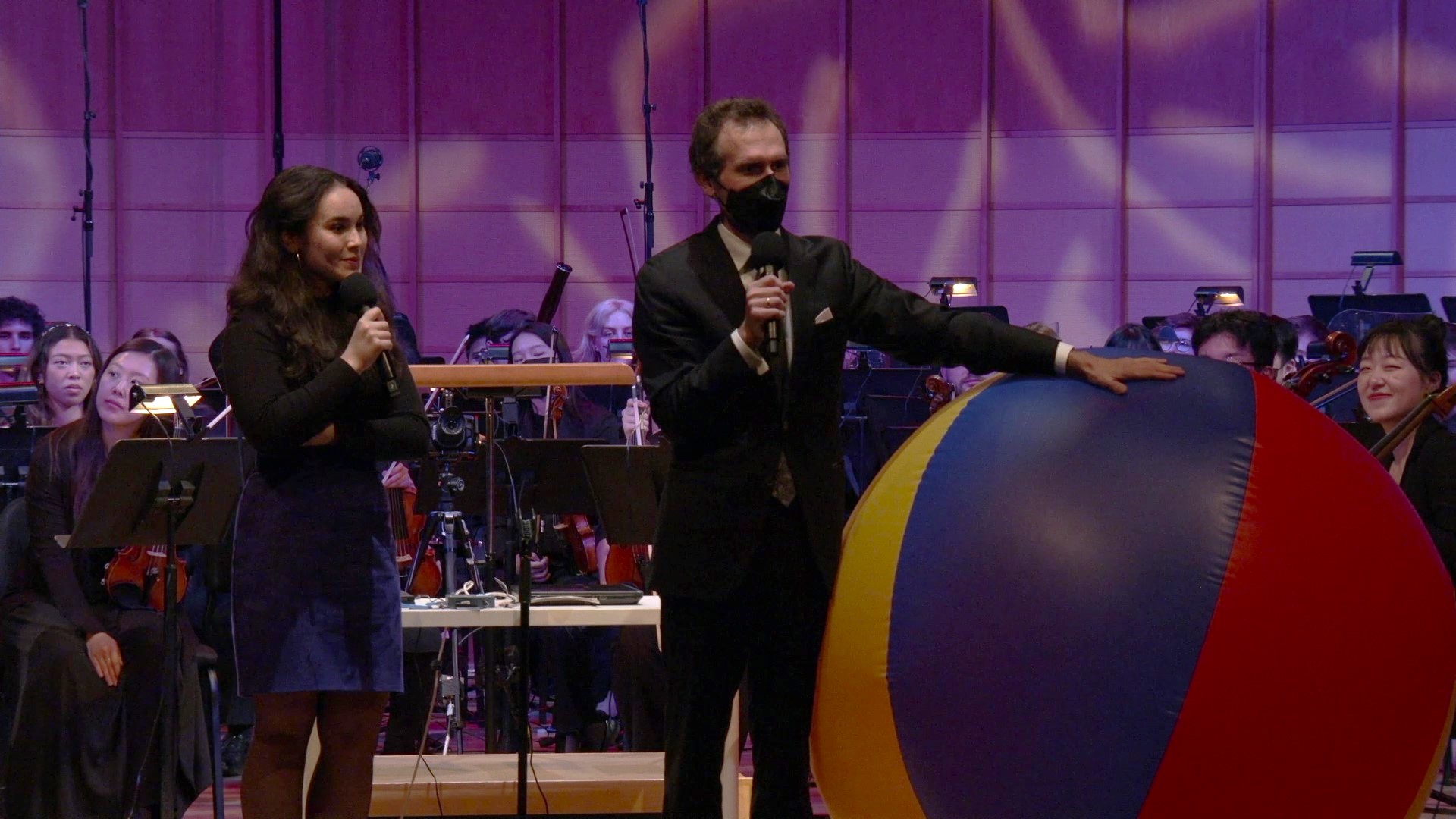 Alexa was tasked to lead one particular interactive game called "Beach Ball Games for Orchestra" by Maxime Goulet, that included the UBC Symphony Orchestra and the audience tossing around an oversized beach ball which was tracked and represented digitally on a big screen in a computer game.
"My job was to narrate the game, direct the audience and heckle them a bit!" she said. "I was in choir in high school and was also a co-captain of the Improv team for a bit, so I have some stage experience, which helped."
"I have always been able to find ways to make anything I learn useful to what I ultimately want to study and research."
~ Alexa Gogescu
She has also participated in the department's very popular Tri-Mentoring Group, where she was partnered with a software engineer from Twitter and an older CS student. And, Alexa landed a position last year as a Coordinator for the GIRLSmarts4Tech (GS4Tech) program after applying for the position on a whim.
"I saw the post for a coordinator role advertised in the weekly undergrad e-newsletter and decided to apply," she explained. "I was surprised I landed the position! I applied because growing up, I tended to be one of the only girls interested in computer science and STEM, and often found myself surrounded by guys. I thought it would be cool to contribute to this really great initiative to make computer science more accessible to girls and other underrepresented youth, and make it a more welcoming space overall. GIRLSmarts4Tech is all about that."
GIRLSmarts4Tech has been run by the department's Committee for Outreach, Diversity and Equity (CODE) for over two decades, providing Grade 6 & 7 girls with workshops and activities centered around computer science. Although GS4Tech was on hiatus during the pandemic, past GS4Tech coordinators created workshops that were hosted online. Now, Alexa and her co-coordinator are working diligently at creating and planning workshops to run in person, hopeful to re-launch by Spring 2023.
"I also have a thing for inter-disciplinary study," Alexa said, as she explained the appeal of her various pursuits. "I feel like any field would benefit from interaction and communication with other fields, even, if not especially, those that seem vastly different. I have always been able to find ways to make anything I learn useful to what I ultimately want to study and research."
Now fully immersed in her major, Alexa reflects that she is very impressed with the computer science department, expressing that the courses are very well organized and the expectations made very clear. She finds the professors passionate about their work and says "It's obvious they enjoy teaching, which I really appreciate. It makes the material so much more interesting."
Do what you love
Alexa thinks it's very common for students to be unsure exactly what they want to do upon graduation or how to navigate everything, and emphasizes that university is a great environment to explore whatever you think you might be interested in. "It's easy to forget, because of the stress that comes with being a university student, but it's such a privilege to be surrounded by, and able to talk to, all these brilliant people. By just asking questions or getting involved in whatever opportunities pop up, you can learn so much," she said. "If you can, try out those courses you think you might like and focus on finding out what you actually enjoy doing. Don't be afraid to branch out from what you're comfortable with. Talk to professors and various research groups. Explore. Be inquisitive. There's so much available on campus if you look for it."
As for post-graduation, Alexa is already thinking about grad school and has hopes of acquiring her PhD. Her research interests lie in people and patterns. She's interested in the philosophy of logic and language, and is starting to explore their applications within natural language processing and machine learning.
Who knows what the future holds for Alexa Gogoescu? But one thing is certain: each door she opens seems to lead to another.