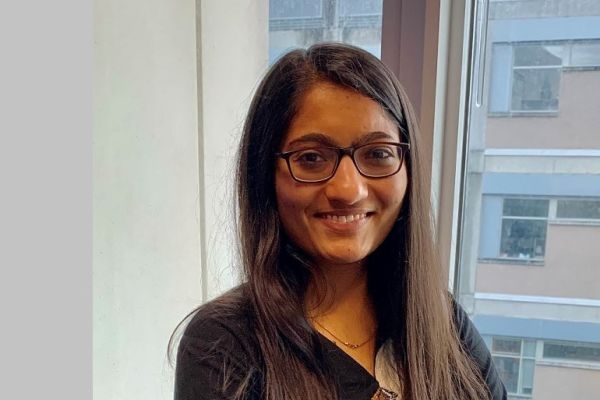 $1.5M from Canada's Department of National Defence to fund development of 5G edge computing research network
The Department of National Defence's IDEaS program is funding research networks, or micro-nets, that are seeking to stimulate the application of advances in technologies for 5G and beyond to address defence and security challenges. 
Aastha Mehta, Assistant Professor, UBC Computer Science, has partnered with the University of Toronto and collaborators at several Canadian universities in a three-year, $1.5 million contribution agreement from Canada's Department of National Defence (DND) to support the development of small research networks, or 'micro-nets,' to inform the development of secure edge computing applications. 
As part of DND's Innovation for Defence Excellence and Security (IDEaS) program, the funding seeks to stimulate the application of advances in technologies for 5G and beyond to defence and security problems. 
The micro-net is led by Professor Eyal de Lara, Professor and Chair of the Department of Computer Science at University of Toronto. Other collaborators include Professor David Lie of the Edward S. Rogers Department of Electrical and Computer Engineering, cross-appointed to the Department of Computer Science at the University of Toronto,  Oana Balmau of the School of Computer Science at McGill University, and Julien Gascon-Samson of the Software and IT Engineering Department at ÉTS Montréal / University of Québec. 
The pan-Canadian team of CS researchers has proposed a micro-net entitled, "A Platform for Secure and Dependable Hierarchical Edge Processing on 5G." 
Next-generational mobile and Internet of Things (IoT) applications will generate massive amounts of data and require low latency to reliably convey timely information to be used by infrastructure such as intelligent transportation systems, the researchers explain. 
Deploying existing cloud technologies to meet these requirements is impractical due to the high latency and limited bandwidth of internet links. 
With advances brought by 5G technology, the researchers propose a focus on edge computing, in which a hierarchy of datacenters provides computation and storage closer to the edge of the network, from a country level all the way down to a neighbourhood level. 
However, realizing the promise of edge computing still requires significant fundamental research to address difficult technical challenges that allow for reliable, predictable and secure performance. 
The proposed research network will help develop Canadian research capacity to address these challenges by training the next generation of Canadian engineers and researchers and creating new frameworks for developing and deploying secure edge applications.  
These technologies and the group's research findings will be made available to Canadian researchers and engineers as technical papers and open-source software. 
About IDEaS
Innovation for Defence Excellence and Security (IDEaS) is a defence innovation program which invests in research and technology aimed at meeting the demands of today's complex global defence and security environment. The program enables Canada to deliver the capabilities needed for a strong and agile military by providing financial support to foster innovation through contracts, contribution agreements and grants. The IDEaS program helps innovators by supporting analysis, funding research, and developing processes that facilitate access to knowledge. It also supports testing, integration, adoption, and acquisition of creative solutions for Canada's defence and security communities. To learn more, please visit the IDEaS website.

More about Aastha Mehta and her research