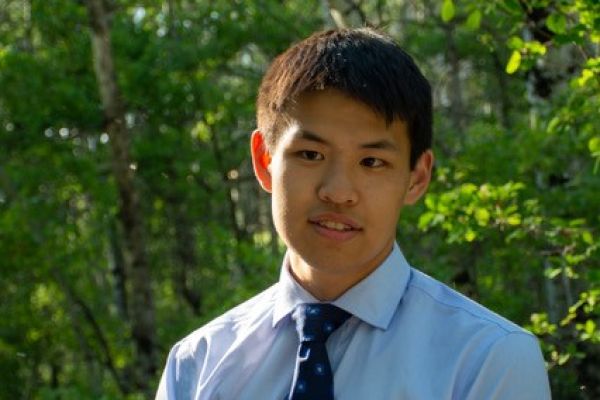 Alan Yan is dancing his way to success
This year was his final chance to win. Alan Yan was entering the annual Apple Swift Student Challenge this past June, for the third and final time.
"I had wanted to win for a few years," he said. The contest is only open to high school and university students, and Alan's final (fourth year) of his Computer Science degree was coming up. So he knew it was now or never.
What is the Apple Swift Student Challenge?
Every year for this competition, Apple challenges students worldwide to create an interactive scene in the Swift Playgrounds app. They only give up to 250 awards, and this year there were 25,000 entries.
Alan had a goal for his project. "I decided I wanted to make something that could keep my family and me active at home during COVID," Alan said. "I started thinking about how I used to play Just Dance  with my family when I was younger, and how much fun that was."
But as Alan pointed out, the game requires quite a bit of hardware, including controllers and a game box, as well as software. He began to think about how he could create something similar, but that would work as an app and within the Swift playground.
Voila, the Dance Party app was born.
"It feels representative of how much I've learned over the past three years and all the knowledge I've gained in coding and the field in general." 
In Dance Party, you can record choreography and play against other users online to try and match the key poses in a series of movements. Once you've recorded your choreographed moves and start to compete, the program uses a distance algorithm to measure where joints and muscles are in relation to each desired pose. Keeping the discrepancies small is what wins you points.
"It's like a mini competition that gets you out of your chair and you can play with anyone using an iPad through Bluetooth," Alan explained. He was so sure about it, he built a working prototype within one weekend.
As it turns out, the reviewers were also impressed by Alan's creation. So much so that he was one of two Vancouverites to win the competition.
"I was really happy to win," Alan reflected. "It feels representative of how much I've learned over the past three years and all the knowledge I've gained in coding and the field in general."
Success with other apps
Alan had already achieved previous success in his computer science journey, some of it from self-taught coding and applications. "I was a big Apple fan as a kid," he explained. "In grade 12, I was searching Google to make an app. I found some great iOS channels on YouTube that teach the Swift language. It's actually quite easy to learn. The interface is really user-friendly."
He went on to make several apps, the most popular of which is called Cloud Battery on the app store, with 120K downloads to date. It is a centralized platform for keeping track of your battery usage and status on all your iOS devices. Alan attests to all the methodical work he did on apps being the major contributing factor to his win at the Swift Student Challenge.
For the summer, between his studies, Alan is working in California as an iOS intern at Robinhood, a zero-commission stock investment company-trading platform in San Francisco. He is on a team that educates users on the stock market through Robinhood's iOS app.

Interestingly, Alan began in Applied Sciences (engineering) at UBC and only switched to study computer science last year. "Computer science is so much more aligned with my interests and I think the professors are fantastic," Alan said. "But I actually haven't experienced any CS classes or professors in person yet, because third year was COVID!"
Grad school is a 'maybe,' and Alan does dream of living abroad in his 20s. "I'm still thinking, and it remains to be seen as to how it all unfolds…"