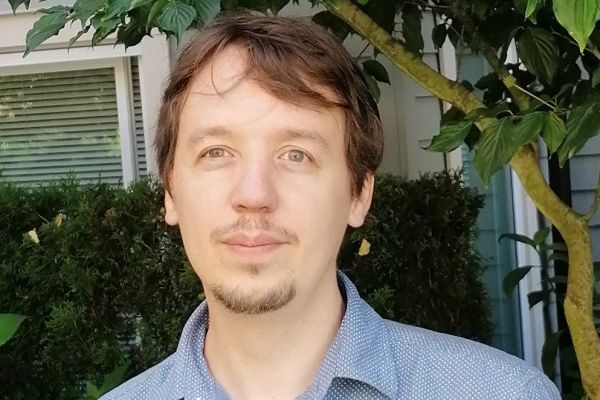 Our latest Systems hire began not so systematically
Thomas Pasquier had an interesting first day in his new position as Assistant Professor with UBC Computer Science earlier this month. It turns out he wasn't required to work at all.
Upon arriving to UBC from Bristol, England, Thomas had no idea that his official start day of July 1 with UBC Computer Science (CS), was in fact a national holiday.
"I didn't actually realize it was Canada Day until a few days prior," he said. "Plus we were in quarantine for two weeks after arriving. So it was an unusual start for sure."
Change is good
Thomas had been working at the University of Bristol since 2018 as a lecturer, which is the equivalent of an assistant professor in Canada. He was teaching undergraduate and graduate classes in security and operating systems. Prior to Bristol, Thomas had been at Harvard for a postdoctoral fellowship, and Cambridge before that, where he received his PhD.
At Harvard, Thomas worked with Dr. Margo Seltzer (now at UBC CS) during his postdoctoral fellowship. They continued to publish papers together even after Margo left Harvard for UBC in 2018. So when the position came up within UBC CS for a Tenure-Track Assistant Professor, Margo encouraged Thomas to apply.
"She knew I was looking for a job and told me about the position they were hiring for in her department. She explained they were working on building a very strong systems group. I think what sold me to apply though, and what attracted me most, was the Systopia group. There are some amazing people there."
Thomas will begin teaching a security class in the winter term and his focus of research will be on complex systems behaviour. "If you consider various pieces of computers hardware and software, as an expert you can reason about how they work in isolation and what they do. But when you put many of those pieces together, a computer system can become so complex, that it is actually very hard to tell what the computer is doing at any given point in time. What I try to detect is when a computer is not doing what it should, which in turn can become a security problem," he explained.
Thomas is already supervising a student, and he has settled into his home on campus.
Loving the university campus life again
"I love being on the campus and all the activity. That's something I really wanted again: a university campus. It's beautiful here. I walk my dog about an hour a day through the surrounding trails in Pacific Spirit Park. Hiking is one of my favourite hobbies," said Thomas.
As for what he is looking forward to most on the job? "I want to help evolve the undergraduate research in operating systems security and really try and build a strong sense of community amongst us."
More about Thomas Pasquier on his personal home page