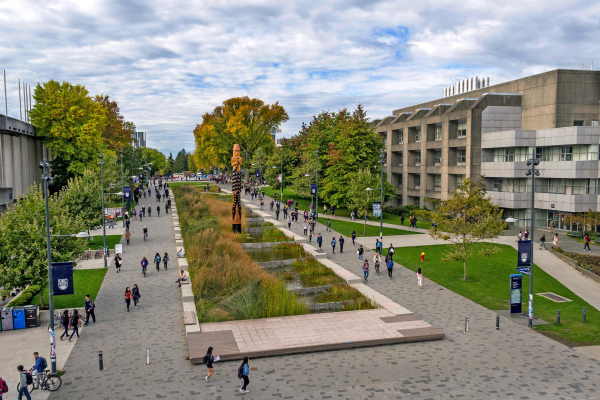 UBC Expands Tech Education with Investment from Province
An investment from the Province of British Columbia will create 624 undergraduate spaces for domestic students at UBC's Vancouver campus for biomedical engineering, computer science, and manufacturing engineering programs to meet growing demand for talent in B.C.'s technology sector.
"We're grateful for this investment, which enables UBC to educate more students from B.C. and across Canada to deepen the talent pool for data scientists, software developers, biomedical researchers, and manufacturing innovators in B.C. companies," said UBC President Santa J. Ono.
The biomedical industry is one of the fastest growing tech sub-sectors in North America and biomedical engineers, who apply engineering and mathematical principles to address major health-care problems, are in growing demand. With its new school of biomedical engineering, UBC will help address industry needs for qualified professionals in life sciences, biotechnology and digital health technology. This provincial funding will support 355 additional spaces for the school's new bachelor of applied science, which starts training students in September 2018.
Another 269 spaces will be allocated to UBC's computer science and manufacturing engineering programs. The expansion of UBC's undergraduate computer science program—ranked No. 1 in Canada by U.S. News and No. 2 in Canada by Times Higher Education and Maclean's— will help address student and industry demand for computer science training. The new provincial funding will also support a planned manufacturing engineering program for students aspiring to careers in aerospace and advanced manufacturing.
"We will continue to work with industry, government and our post-secondary partners to provide our computer science and manufacturing and biomedical engineering students with co-operative education, experiential learning experiences and research opportunities to best prepare them for in-demand careers in B.C.," added Ono.
UBC's new spaces form part of today's announcement by Melanie Mark, Minister of Advanced Education, Skills and Training, to add 2,900 tech spaces throughout the province. For more information, visit https://news.gov.bc.ca/releases/2018AEST0008-000046