UBC Killam Teaching Prize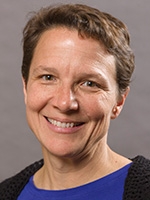 Cinda Heeren is not your conventional professor.
Early in a Spring semester, a mere six hours before their first midterm exam, a small group of first-year students approached her after class.  They were terrified they may not succeed, and they were falling over themselves with stress. Cinda sat calmly with them, going through a checklist. "Have you reviewed the notes? Have you done the practice questions? Do you understand the material?" It was a resounding yes to every question, yet the students were still convinced they may not do well. So Cinda told them something that surprised them…

"Go have a coffee together. Go walk. Enjoy yourselves. Relax. You've done all the work. You know the material." That group of students did well on the exam, and they thrived throughout the term.
For Professor Cinda Heeren, her teaching methods are so intuitive and natural, she doesn't see them as anything extraordinary. But winning the UBC Killam Teaching Award tells a different story. "Winning was certainly a surprise," said Heeren. "I have no idea who nominated me." The prize is awarded annually to faculty nominated by students, colleagues or alumni in recognition of excellence in teaching. Winners receive five thousand dollars.
When Cinda left her professorship at the University of Illinois to join UBC three years ago, also moving her husband and four children, it had been a huge decision. But one of the reasons she was so drawn to the university was for its ability to create a climate of collaboration. "UBC is so focused on student-centric teaching," explained Cinda. "The students really have a voice. Faculty and staff truly care what students think and we all work hard to listen and accommodate wherever possible."
As for Cinda's approach, she has a sincere desire for her students to experience the breadth of university life. "I let them know it's actually okay to enjoy the material, and also to not to be too hyper-focused and stressed about the end result. They should be having fun along the way, and learning beyond the material, to bring rich life experiences and circumstances into the equation."
Cinda's main class is CS 221 – Basic Algorithms and Data Structures, where she helps students synthesize mathematics with coding. "The topics I teach are actually fun and profoundly interesting! I teach them this whole new way of looking at code, from a mathematical perspective. The students are always extremely bright and they're eager to solve the puzzles we come up against."
When asked why she thinks she won the award, Cinda admits to being very open and welcoming. As a result, the students seem to respond to her. "I think through my openness, the students really feel how genuinely I want them to succeed, and that the process should be fun."
Congratulations Cinda, on your award!
---
Cinda has mainly taught CPSC 121 and 221 in the past few years, and also offered CPSC 320. She has recently developed and taught our new second-year course for non-majors, CPSC 203. Cinda has also been involved in great initiatives such as PrairieLearn and the Computer Based Testing Facility.