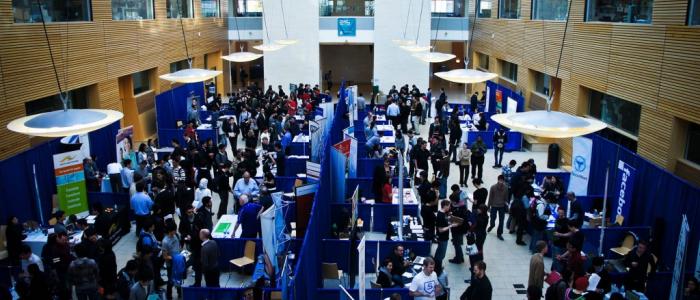 UBC Technical Career Fair
Event Information
Welcome to the Technical Career Fair. Traditionally held in January at the UBC campus, the fair offers you an opportunity to meet our students, survey their potential as future employees, and alert them to job and career opportunities in your company.
The Department of Computer Science has more than 2,200 undergraduates in a range of computer science majors and combined majors, and over 250 graduate students. Employers attending the Career Fair can meet with this year's undergraduate, masters, and PhD graduating students seeking post-commencement employment, and to other students looking for part-time, summer, and co-op work experience.
Last year, over 50 companies attended the Tech Career Fair to meet undergraduate and graduate students from a wide range of disciplines, including Computer Science, Cognitive Systems, Engineering Physics, and Electrical and Computer Engineering.
The 2020 Technical Career Fair will be held on Jan 30 and Jan 31 at the NEST.  For application instructions, see attached PDF at the end of this page.  The application deadline is November 29. Questions: contact careerfair@ubccsss.org
Other UBC Options for Recruitment
Other UBC-based options for advertising your company's technical opportunities for students and new graduates include:

Centre for Student Involvement and Careers
They oversee the central UBC job postings system CareersOnline (available at no charge to employers) and can also arrange employer information sessions.
They are also hosting a UBC Spring Jobs Fair on on February 25 & 26, 2020 and registration is now open.  More information about the Spring Jobs fair here.

UBC Science Co-op (for Computer Science, Cognitive Systems, and Engineering Physics-related co-op opportunities). Job postings information for employers is available here

UBC Engineering Co-op Office (for Electrical/Computer Engineering co-op positions). Information for employers is available here.

UBC Computer Science Department's student and new grad job postings page. Employer instructions are available here.