Supporting Haptic Designers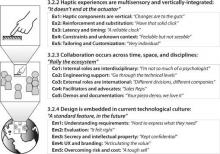 Haptic technology is increasingly becoming a critical and expected aspect of user experiences as seen in the rapid progression towards blended physical-digital interfaces. However, the exact design challenges involved in creating effective haptic experiences are relatively unknown. 
In this project, we present a series of studies that aims to capture these challenges and to create solutions such as tools that could alleviate the various challenges involved in haptic experience design.
Our goal is to create a set of tools, guidelines, and other design process solutions that will help hapticians of any skill level, whether they be industry or novices.
Publications: