CuddleBot: A Robot that Responds to Touch Interaction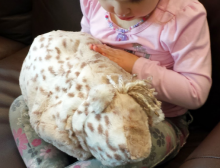 The CuddleBot is a cat-sized social-robot research platform that lets us explore how touch interactions affect stress and anxiety mitigation. Custom built by SPIN researchers, CuddleBot can move its head, arch its back, purr, and change how it "breathes". It is equipped with a full-body, flexible fabric pressure sensitive touch sensor; its current gesture recognition system enables users to connect sensed gestures and response behaviours.
The CuddleBot's therapeutic platform is inspired by the TAMER project and uses touch sensing for user behaviour recognition.
Publications: