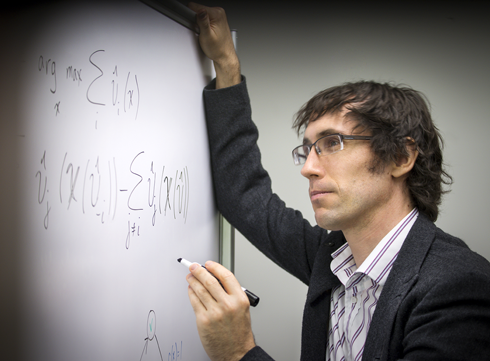 Kevin Leyton-Brown
Distinguished University Scholar
Canada CIFAR AI Chair, Amii

Professor
Computer Science
University of British Columbia
2366 Main Mall, Room X565
Vancouver, BC V6T 1Z4

604-822-1453 (phone)
604-822-5485 (fax)

Prospective Students
For students not enrolled at UBC: please do not contact me directly; instead,
apply to my department
and indicate an interest in working with me. You can learn about my research area from
my free online class
. I am likely to take on new PhD students from outside UBC only when I am already familiar with their publications from conferences that I attend. I am likely to take on other students for an MSc with the possibility of continuing to a PhD. For students who
are
already at UBC, please take
my grad class
and drop by
GT-DT
if you're interested in the intersection between artificial intelligence, optimization, and strategic behavior.