Jade Treasures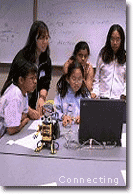 The goal of the Jade Treasures Project is to support participation by K-12 girls in computer science and engineering activities, and to provide materials for high school students that dispel common myths about the field of computer science. We support participation by K-12 teams in robotics competitions.
We also helped initiate the GirlSmarts Workshop for high school girls. This workshop is now run by the Focus on Women in Computer Science committee at UBC.
Connecting With Computer Science
In this interdisciplinary college-level course, we introduce computer science principles through applications in the fine arts, psychology, and biology. The Connecting With Computer Science course is currently offered at UBC.
Canadian Distributed Mentor Project (CDMP)
Coordinated by Dr. Faith Ellen at U. of Toronto, the CDMP supported outstanding undergraduate women in Computer Science and related fields to travel to Canadian research institutions for a summer of research and mentoring.
The Jade Bridges Programme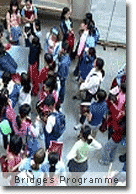 Bridging across the province, we supported new projects in B.C. and the Yukon that aimed to increase the participation of women in Science and Engineering. Project leaders formed a network for leadership and change in the region.