FIRST Robotics Competition
Since the inception of the Jade Project in 2004, Jade has been actively involved in the FIRST Robotics Competition in partnership with General Motors Canada. We have been providing mentors and travel funds to female students who are interested in participating in their high school robotics teams and attending the competition. The two high school teams that are supported by Jade are David Thompson Secondary School and Kitsilano High School.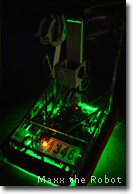 Jason Brett, the IT teacher and Trobotics Team coordinator at David Thompson Secondary School, has been actively in encouraging female high school students to get involved in the programming and engineering aspects of the robotics competition. Under his encouragement, female team members have been taking on more technical roles in building and testing the robot. The fact that female team members were funded and encouraged to attend the competition means that they get a chance to solve last-minute problems and experience the actual competition. On the right is a photo of Maxx, built by the Trobotics Team. Here is an article by one of the team members, Patricia Wong, describing her experience at the actual competition. There is also an article in the most recent Jade newsletter on the Trobotics Team at David Thompson Secondary School.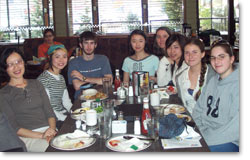 Kitsilano High School has been participating in the FIRST Robotics Competition since 2005. Ryan Fullerton, the Engineering teacher, Kirk Richardson, a Kitsilano High alumnus, have been tirelessly coaching and mentoring the Demon Robotics Team. Lois Chan, a UBC Computer Science student as well as an alumnae of Kitsilano High School, provided the team with a much needed female mentor and role model. Lois was featured in our Spring 2006 newsletter. Above is a picture of a luncheon that we organized with female members of the Demon Robotics Team, a swell as Lois Chan and team captain Kirk Richardson.
FIRST VEX Challenge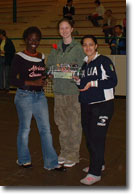 While the FIRST Robotics Competition is designed for senior high school students, the FIRST VEX Challenge is a mid-level robotics competition designed for junior high school students. In 2007, Jade supported Killarney High School to form an all-girls team to join the competition. Seema Ali, the IT teacher in Killarney High School, got together a team of five girls and worked together with them for six months to build their robot, Billy Bob. They competed on April 21, 2007 and won first place! Here's a picture of three of the team members with Billy Bob. Plans have been made for the team members to recruit more female students into the Killarney Robotics Club and to join the competition again in 2008!
In the team's own words:
To Jade Project,
On behalf of Killrobotics I would like to thank you for your generous doantions, we could not have done it without you! I'm happy to report that Killrobotics won first place, undefeated on Saturday, April 21, 2007 at the competition in West Vancouver Secondary School. We had an awesome time and are looking forward to future competitions. We had a great time constructing Billy Bob and learned a lot of useful skills like the value of teamwork, how to use an allen key, program a robot and through trial and error we learned how to fit parts together and take them apart. Included below is a testament from each member of our team stating what we learned and what trials we faced throughout the last 6 months.
Alanah Kohnen: I really enjoyed the experience I got from joining this club. I learned the value of teamwork, how to build a robot from scratch, programming and the overall feeling of accomplishment. None of us knew how to build a robot. We didn't know how to program one or even what one should look like. We had an awesome learning and we have all come a long way. Personally, my favorite part was trial and error. We had to build the robot one way and when that didn't worl we had to take it all apart and do it again. It was my favorite because we had to use our imaginations and problem solving. I was proud when we did something again and again and finally we got it right.
Alice Chan: When my new friend and her friends asked me to join a club to make a robot, I was hesitant. But after our teacher, Ms. Ali, persuaded me, I agreed. The whole process was something I've never done before. From learning how to make a robot to today. Plus I made some great friends, even though they are all one year older than me. I guess my role is to construct the robot. I screwed things together and helped out my friends. The best part of the whole process was learning how to make a robot. At first, my first image of a robot is human-looking machine, but that isn't always the case. The most frustrating thing about the whole process was fixing and re-fixing the robot, which was so time-consuming and, sometimes, difficult. Even though, I wasn't at the 2nd and real competition ( I was on a trip with my class), I know I did a big part of the robot.
Alma Mandera: Being in Killrobotics has taught me so much. It has taught me patience, leadership skills, programming, engineering and so much more. Working on our robot, Billy Bob, was both time-consuming and exhilerating. There were countless amounts of times when we'd take him apart, only to find taking him apart was useless. I think one of the greatest things I learned this year from Killrobotics is working as a team. Although it may have been frustrating at times, it taught me the virtue of patience while I had the privelege to learn, first on, about robotics, engineering and programming.
Amanda Douglas: First and foremost I enjoyed all aspects of creating this robot. Especially the tournament, that being the first one, since I was away for the second. My role was more programming wise and it was a lot of fun. I learnt a lot about programming, hardware, gears and the like. Along with a fair bit of teamwork as well.
Monica Varshney: I really liked the way it made everyone work as a team. I helped my team with designing the robot and building.The competition was extremely fun and got to met many new people my age. I think Vex should provide the funds for each team needs. Thank you for your time and donation to Killrobotics. We hope to continue to learn about engineering a robot and rebuild Billy Bob to new potentials. Yours truly, Killrobotics (and Billy Bob). I would also like to add that the girls worked very hard and learned a lot. It was great being their sponsor teacher for the robotics club. They had a positive attitude during the competition and they tried their best with what they had. I am very proud of these students.
FIRST Lego League
Since 2005, Jade has been collaborating with the Vancouver School Board and FIRST Lego League to sponsor elementary and junior high school teams to join the FIRST Lego League competition. Every year, Jade sponsors 6-8 school teams with the provision that at least 60% of the team members are female. We also recruit undergraduate and graduate students to mentor the teams. In the Spring 2006 issue of the Jade Newsletter, we interviewed the 2005 First Lego League team from Queen Mary Elementary School.
Here are the schools we sponsored in 2006:
MacDonald Elementary School
McKechnie Elementary School
McBride Elementary School
Nootka Elementary School
Roberts Elementary School
Prince of Wales Secondary School
Jade will be sponsoring another six schools to go to the FIRST Lego League competition in November 2007.